Former AmEx Consultant David True Discusses The Future Of Online and Mobile Payments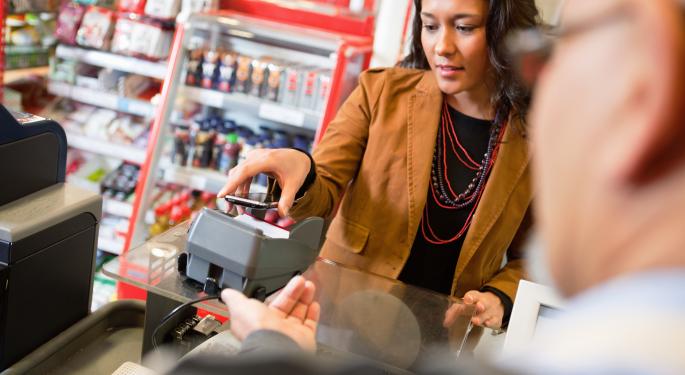 In a conference call with investors on Thursday morning, David True touched on a few issues facing the future of online and mobile payments.
Currently the managing director of Broadly Curious Advisors, True has nearly 20 years of experience working his way up American Express (NYSE: AXP).
Online banking and payment represents a huge growth area for banks. True stressed that the future of such payments is based on making both the merchant and the customer happy. That is done by making their online or mobile purchasing and banking as easy as possible.
eBay (NASDAQ: EBAY), harbinger of PayPal, the internet's most popular if fading payment option, recently purchased potential threat Braintree for $800 million. The move shows that PayPal is willing to evolve their technology and business model. Braintree will remain a separate service within PayPal.
True said to watch if PayPal can convince Braintree customers to stick with them, less they find a new payment service.
Clinkle recently had a video leaked on Tumblr potentially displaying the app's features. True said the app appears to be vying for the younger demographic, as it packages its technology to appeal to that customer. Leaf, one in a line of companies building merchant hardware into devices like the Apple (NASDAQ: AAPL) iPad, is combining hardware and software, which True says will be a harder market sell.
Apple's new fingerprint phone lock is making security measures much more comfortable for users. The new iPhone 5S is continuing to keep things simple for the consumer, which True says will allow the company to consistently sell more of its product.
On the flipside, the Google (NASDAQ: GOOG) Wallet is a sign of a product that looks cool, but still needs to tell the consumer why they need to have and use it. True thinks the Google Wallet has good potential, however, unlike the Facebook (NASDAQ: FB) Wallet. He wonders if the majority of consumers will trust the security of such a wide-open platform like Facebook.
True wrapped up the 45-minute call with a couple of questions, but again stressed that growth prospects and margins in companies like Visa (NYSE: V) and MasterCard (NYSE: MA) are under pressure. The future is in making things easier, like Amazon's (NASDAQ: AMZN) 1-Click option has done.
Posted-In: Braintree Crinkle David True iPhone 5STech Trading Ideas Reviews General Best of Benzinga
View Comments and Join the Discussion!