Tesla Model S Catches Fire - Causes Stock To Dip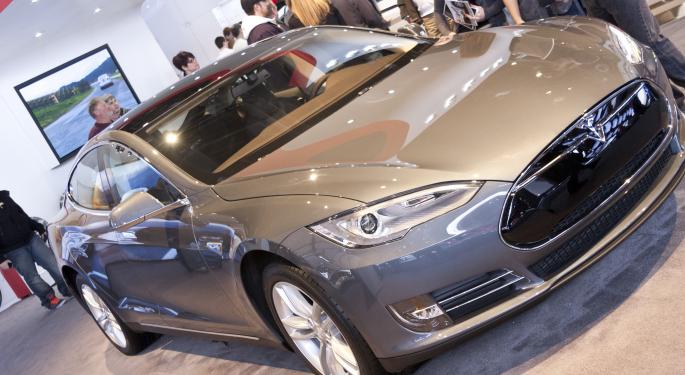 On Wednesday, a Tesla (NASDAQ: TSLA) Model S caught fire in Seattle, Washington.
According to the Associated Press, the fire began in the vehicle's battery pack after a large metallic object made contact with the pack's modules under normal operating conditions. Most important, nobody was injured in the fire.
The scene was dramatic. The entire front of the car was engulfed with flames and because it involved batteries, firefighters had trouble extinguishing the blaze. At one point, they believed they had the fire under control but it reignited. As water intensified the fire, crews switched to dry chemical extinguishers.
Ultimately, firefighters had to dismantle the front end of the vehicle, puncture holes in the battery back, and spray water directly onto the batteries to finally get the fire under control.
All of those gory details translate to this: If a Tesla catches fire, it's a much bigger deal than a normal car fire. Car fires happen all the time, and while every fire is an emergency, they're often easy to extinguish. The lengths that firefighters had to take to extinguish this fire suggests a potential safety hazard that none had expected. What if it had happened in a garage or a shopping mall parking lot?
According to Tesla, there is no reason for alarm and there was no reason to believe that the fire was caused by anything other than debris making contact with the vehicle.
Related: Panasonic May Not Source Tesla's Rumored Hybrid Battery
This was not a spontaneous event," spokesperson Liz Jarvis-Shean said. "Every indication we have at this point is that the fire was a result of the collision and the damage sustained through that." (By collision, she means, contact with the debris. There was no collision with another vehicle or other stationary object.)
But even if that is true, questions will be asked about the vehicle's ability to safely withstand everyday events and as Boeing found out with all of its battery issues with its 787 Dreamliner, questions aren't good for business.
As a result of the fire (and an analyst downgrade that seems insignificant compared to this news), shares of Tesla were down more than six percent and indicated lower by another four percent in pre-market trading Thursday.
If this turns out like the Boeing saga, this could be a "buy the weakness" opportunity. A quick look at Boeing's stock performance in the months following its battery issues indicates that bad news may be good news for investors in this case.
Disclosure: At the time of this writing, Tim Parker had no position in the above named securities. He is also a former firefighter.
Posted-In: Boeing Elon Musk TeslaNews Events Tech Best of Benzinga
View Comments and Join the Discussion!