Benzinga's M&A Chatter for Wednesday October 2, 2013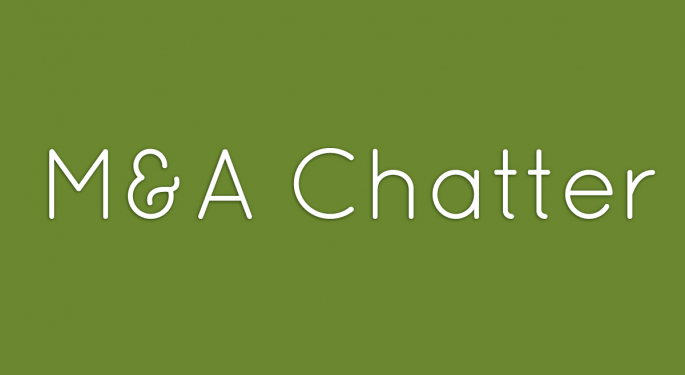 The following are the M&A deals, rumors and chatter circulating on Wall Street for Wednesday October 2, 2013:
Report of Cerberus Interest in BlackBerry
The Rumor:
Shares of BlackBerry (NASDAQ: BBRY) spiked higher Wednesday on a report from Dow Jones that Cerberus has an interest in the Canadian handset maker and is ready to sign a confidentiality agreement.
BlackBerry announced on September 23 that it had entered into a letter of intent with a group led by Fairfax Capital to acquire the company at $9 per share.
A Cerberus spokesperson declined comment on the report.
BlackBerry closed at $7.96 Wednesday, a gain of $0.04 on twice average volume.
Hearing Takeover Chatter in Aeropostale
The Rumor:
Shares of Aeropostale (NYSE: ARO) spiked higher Wednesday morning on a report from The Street.com's The Deal that PE firm Sycamore Partners was looking to takeover the teen apparel retailer, according to sources.
Sycamore acquired women's apparel retailer Talbots (NYSE: TLB) in 2012.
Aeropostale closed at $9.65 Wednesday, a gain of 1% on higher than average volume.
Jeffrey Jacobs Offers $5.69/Share for MTR Gaming
The Offer:
An amended 13-D filing Wednesday included a letter from MTR Gaming (NASDAQ: MNTG) shareholder Jeffrey Jacobs that included a letter included an offer for the company with an implied price per share of $5.69. Jacobs stated in the letter that his proposal is " more attractive for MTR shareholders than the existing Agreement and Plan of Merger between MTR Gaming Group, Inc. and Eldorado Holdco, LLC and constitutes a "Superior Proposal" under Section 5.4 of that Agreement."
On September 9, Eldorado agreed to pay $5.15 per share for up to 5.8M shares of MTR.
MTR Gaming closed at $4.71 Wednesday, a loss of $0.02.
View Comments and Join the Discussion!