Weatherford, Copart And Others Insiders Have Been Buying (AYR, CPRT, OPK, WFT)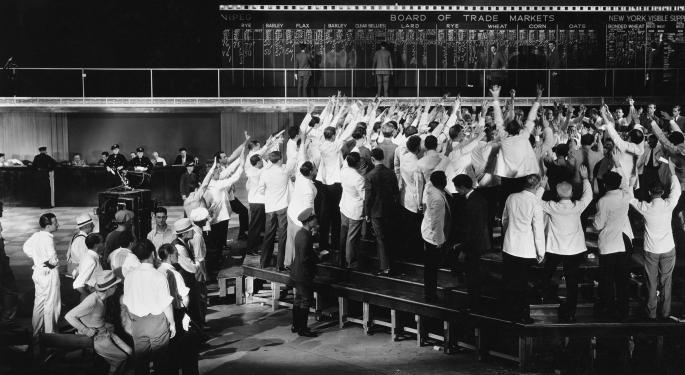 Insiders may sell shares for any number of reasons, but conventional wisdom says that insiders really only buy shares of a company for one reason -- they believe the stock price will rise and they want to profit from it.
Pullbacks and sell-offs provide a perfect opportunity for investors who have faith in a company to snap up shares. Here are some stocks that have seen insider buying recently.
AirCastle
One director has bought more than 318,000 shares in the past two weeks. Combined, that was worth more than $5.5 million. Aircastle (NYSE: AYR) has been selling shares to Japanese trading firm Marubeni to raise capital and improve its balance sheet as it continues to recover from the Great Recession.
The market capitalization is more than $1 billion and a dividend yield of about 3.8 percent. The long-term earnings per share (EPS) growth forecast is more than 24 percent. Shares of this lessor of commercial jet aircraft rose more than five percent in the past month. The stock has outperformed the broader markets over the past six months.
Copart
The chairman of the board bought almost 228,000 shares of Copart (NASDAQ: CPRT), which was worth about $7 million. This was after the recent report of an earnings miss and a revenue beat for the fiscal fourth quarter sent shares down more than 10 percent.
The Dallas-based online vehicle auction company has a market cap near $4 billion. The long-term EPS growth forecast is more than 13 percent. Shares are trading in the same neighborhood as a month ago. The stock has underperformed competitor KAR Auction Services (NYSE: KAR) and the S&P 500 over the past six months.
See also: The Government Shutdown Could Derail Twitter IPO
Opko Health
The chairman continues to buy batches of shares periodically, as he has done for more than a year. He scooped up 35,000 Opko Health (NYSE: OPK) shares in the past week in two batches. The total price of those purchases was more than $296,000.
This Miami-based health care company has a market cap of around $3 billion, and short interest is about 16 percent of its float. The share price is down more than four percent in the past month. Over the past six months, the stock has outperformed competitors such as Allergan (NYSE: AGN).
Weatherford International
One Weatherford International (NYSE: WFT) director and an executive vice president bought a combined 88,000 shares in September. The total price of those purchases was more than $1.3 million. The chief financial officer of this Swiss company stepped down in September as well.
This oil field equipment and services provider has a market cap of about $12 billion but does not offer a dividend. The long-term EPS growth forecast is more than 52 percent. The share price has risen more than two percent in the past month, and the stock has underperformed Baker Hughes (NYSE: BHI) over the past six months.
At the time of this writing, the author had no position in the mentioned equities.
Posted-In: Aircastle Alergan Baker Hughes Copart KAR Auction Services Opko HealthNews Insider Trades Best of Benzinga
View Comments and Join the Discussion!