Eventually Google Plans to Deliver Before You Order (GOOG)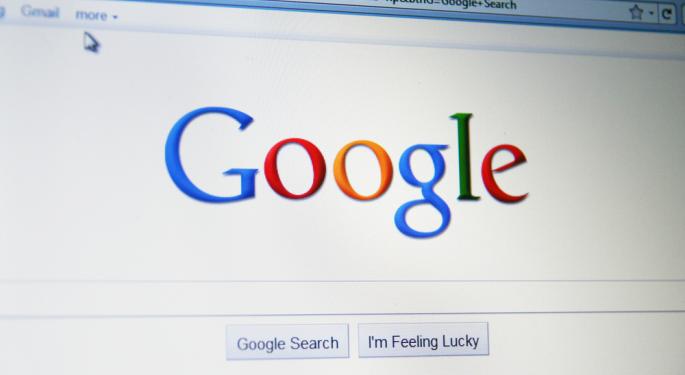 Amazon (NASDAQ: AMZN) wants to provide all its customers with same day delivery of online orders, including groceries and other staples.
Google (NASDAQ: GOOG) wants to go one better. What's better than same day delivery? Delivery before you ask.
It's called "ambient commerce" and it is part of the retail universe Google aims to rule. According to Wired that might just happen.
To be successful at ambient commerce, you must first be successful at online ordering and same day home delivery. Google has been working on that and recently announced that its same day delivery service was ready for a public roll out in San Francisco and Silicon Valley.
Unlike Amazon, which relies on strategically placed warehouses, Google's version of same day delivery involves placing an order with a nearby store via a smartphone app or on a computer or other device. A Google courier picks up the order and delivers it.
In addition to Amazon, others becoming more active in same day online-based delivery include eBay (NASDAQ: EBAY) and Wal-Mart (NYSE: WMT). The logistics of same day delivery are not easy to overcome. Moving merchandise across the country is easy. That final little bit – the so-called "last mile" is the tough part. Eventually, however, everyone will find their own solution to the "last mile," leaving those who want to be on top left to finding something better than just getting products to you the same day you order them.
EBay's Enterprise head of strategy, John Sheldon, started the conversation by telling clients that the day would come when customers would let their smartphones order for them instead of actually placing an intentional order, according to Wired.
Sheldon provided Wired with one example. Suppose, he said, you set up a rule in your Nike+ app that automatically orders you a new pair of shoes after you run 300 miles. Such "rules," of course, could easily be used with other apps or even sensors that communicate with your smartphone or other device.
According to Sheldon, "Ambient commerce is about consumers turning over their trust to the machine." It sounds futuristic and far-fetched but much of what Sheldon suggested is already possible.
The key to Google's "delivery before you order" plan involves something Google is particularly good at – algorithms. In this case, algorithms that not only meet your needs, but also actually anticipate them.
Eventually all companies that participate in online ordering will likely have to develop some form of ambient commerce. Google will not be alone in the space. As a leader in algorithm development and information technology, however, the company will be a major player.
At the time of this writing, Jim Probasco had no position in any mentioned securities.
Posted-In: algorithms Amazon ambient commerce EBAY GoogleNews Events Media Best of Benzinga
View Comments and Join the Discussion!