Don't Believe The 'Apple Doesn't Innovate Like It Used To' Hype (AAPL)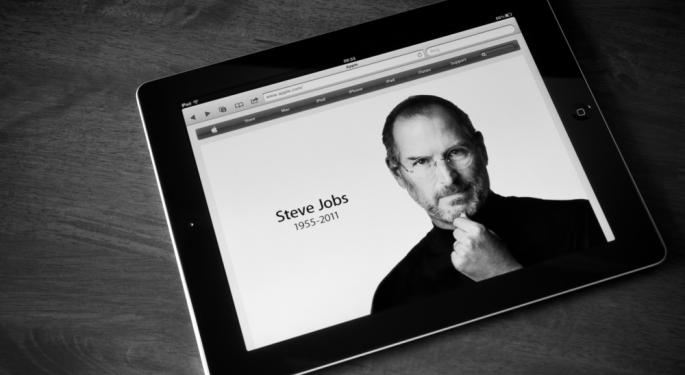 Many people believe Apple (NASDAQ: AAPL) is in trouble, primarily because with the death of Steve Jobs, the company has fallen into an era of incrementalism.
In other words, these people, including ABC's Sandy Cannoid, believe two things. First, that Steve Jobs constantly brought new and exciting groundbreaking products to market and second, that instrumentalism is bad.
Time magazine's Harry McCracken believes these people are wrong on both counts.
McCracken went to great length to show, that in reality Steve Jobs introduced truly new products once every 860 days (2.35 years) on average. For purposes of illustration, McCracken said Apple's groundbreaking products, under Jobs, were the iPod (2001), iPhone (2007), and iPad (2010). He added two services, iTunes (2003) and the App Store (2008).
Tim Cook has been in charge of Apple for a little more than two years. Using the Steve Jobs product introduction timeline, Cook is either about due or has a couple more years to go.
More importantly, McCracken pointed out that Jobs unapologetically refined the process of refinement for existing Apple products and services. The iPod became a better iPod. The iPhone has also constantly improved, as has the iPad.
Apple does seem to be due for a breakout product, something unlike anything that has gone before. It might be in wearable computing (iWatch), a 12-inch iPad, or a true Apple television.
The faithful may not have long to wait. MacRumors recently pegged the release of the iWatch for late 2013 or, more likely, late 2014.
News about a super large iPad of the 12-inch variety is less certain. Investor Place reported that although Apple is expected to unveil two new iPads in October, neither will be the rumored new mega-pad.
As for Apple's long-anticipated entry into televisions, the rumor mill has churned for years on that one. Most recently, International Business Times quoted Mike Fries, CEO of Liberty Global, which owns Virgin Media, saying, "I don't think they're going to build a TV. They want to be in the interface business. They want essentially to get in between cable operators and customers."
For Cannoid and others who seem to judge Apple only in terms of brand new technology, this could be bad news. McCracken, however, maintained that incremental improvements have mattered more than anything else when it comes to Apple's success.
Acknowledging that Apple's most important products have been game-changers, nonetheless, McCracken said that the company's best products have always been those that evolved incrementally.
At the time of this writing, Jim Probasco had no position in any mentioned securities.
Posted-In: App Store Apple Apple Television Harry McCrackenNews Events Tech Media Best of Benzinga
View Comments and Join the Discussion!