Guess Which Constitutional Amendment Apple May Have Just Rendered Moot?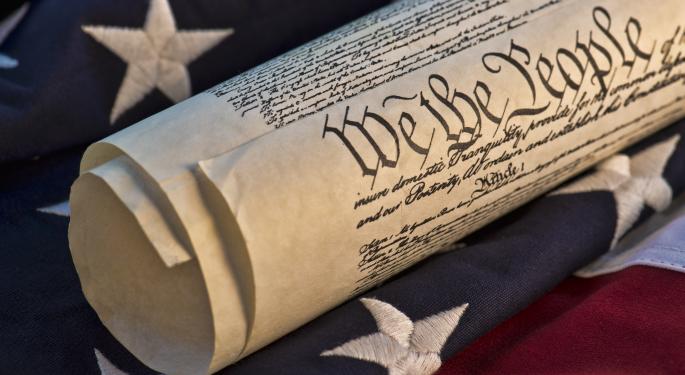 If you guessed "Fifth," you would be correct.
Here's how Apple (NASDAQ: AAPL) may have weakened the protection against self-incrimination guaranteed by the Fifth Amendment.
According to Wired, while the Fifth Amendment protects you from having to give up things you know (such as the password that unlocks your phone), it might not protect you from being required to give up your fingerprints.
The Supreme Court has been clear in rulings that citizens are not required to testify against themselves. This is not only true in criminal proceedings, but also civil proceedings and even informal inquiries.
What is not clear is whether you have the same protection when it comes to evidence based on your physical makeup, such as fingerprints or retina images. In other words, if you keep photos you took of yourself robbing a jewelry store on your iPhone 5 which you secure with a numerical code, you cannot be required to give up that code.
If you transfer those photos to your brand new iPhone 5S with a fingerprint sensor, there is no clear legal precedent that prevents law enforcement from making you press your finger against the sensor, thereby revealing the photos.
Related: Is It Time To Buy Apple At These Levels?
While biometric authentication makes many normal everyday tasks that require security easier, there may be legal, even constitutional implications that have not yet been fully considered.
The Fifth Amendment concern is only the latest among several privacy concerns raised by the introduction of Apple's new biometric-based security system. Before the world knew for sure that the new 5S would include a fingerprint sensor, The Washington Post and others were asking questions.
There was the question about where fingerprints would be stored. Would Apple store them in the cloud or on individual devices? Apple answered saying information would be stored on each individual device and that there would be no central repository, according to CNET.
Another concern expressed was that, unlike passwords, fingerprints cannot be changed. If a hacker managed to locate and replicate the biometric information contained on your device, it could become a literal "treasure trove" for the criminal, according to Hamburg commissioner for data protection and freedom of information, John Caspar, who spoke to Der Spiegel.
Whether privacy and constitutional concerns will have a negative impact on interest in Apple's latest technology twist remains to be seen.
For now, Apple has been uncharacteristically quiet about pre-order sales figures, according to ZDNet.
At the time of this writing, Jim Probasco had no position in any mentioned securities.
Posted-In: Apple biometric authentication cloudNews Politics Legal Tech General Best of Benzinga
View Comments and Join the Discussion!