iPhone 5S Supply 'Grotesquely Unavailable' - Sources (AAPL)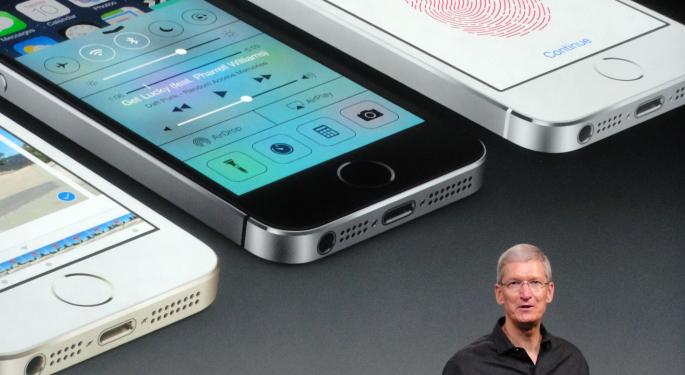 Two new Apple (NASDAQ: AAPL) iPhones were announced last week, and although there's the usual chatter about the phones' shortcomings, the reality is that people want them—good news for Apple.
The not-so-good news, however, is that availability of the iPhone 5S appears to be low. The 5S will launch this Friday along with the 5C but according to 9to5mac, 70 to 80 percent of the new phones will be the 5C model.
Apple is expecting the most popular 5S color to be Space Gray. Of the 5S phones shipped to retailers, three of every four are expected to be the Space Gray models. If you're looking for a white/silver or white/gold 5S, the likelihood of finding one is low.
Additionally, if you're an AT&T (NYSE: T) customer, availability is expected to be slightly better for you than for Verizon (NYSE: VZ) customers.
But how bad is it, really? Apple seems to always have a short supply of its new phones. There's no better marketing image than scores of people standing outside in lines wrapped around an Apple store in the hopes of getting their hands on a new iPhone the day of its launch.
This time it appears to be much worse. A representative from an unnamed carrier told AllThingsD that the 5S would be "grotesquely unavailable."
Related: Is it Time to Buy Apple At These Levels?
The problem appears to be twofold. The new fingerprint sensor is in short supply and the usual problems with the aluminum body being difficult to manufacture.
Interestingly, one carrier said that while the 5S will be in short supply, it might not see the out-sized demand that people believe. Apparently, the iPhone 5C, with the wild colors that some Apple snobs said would never sell, are catching the eye of customers.
The 5C, which is basically an iPhone 5 with a much easier to manufacture plastic case, is in ample supply.
Early reviews for the new phones were mixed but two days from launch, the reviews are mostly positive. 9to5mac ran a piece highlighting some of the already-published reviews. One of the more notable comments was increased battery life—something iPhone users have always complained about.
Bottom line: If you want a 5S, grab a sleeping bag and head to your nearest Apple store. If reports are true, you will be a popular person in your office Monday morning if you're sporting a 5S.
Disclosure: At the time of this writing, Tim Parker was long Apple.
Posted-In: 9TO5Mac AllThingsD Apple AT&T iPhone 5C iPhone 5SNews Tech Best of Benzinga
View Comments and Join the Discussion!