Benzinga's M&A Chatter for Monday September 16, 2013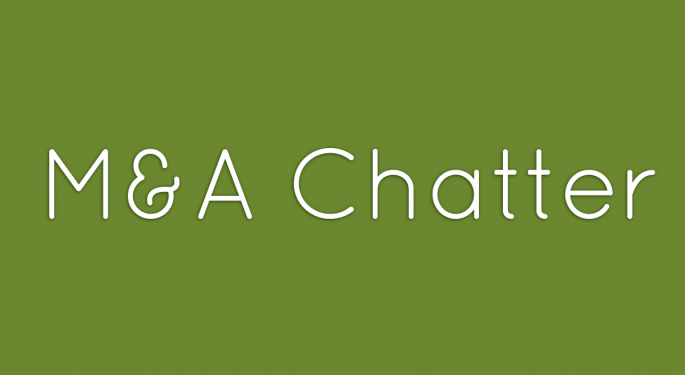 The following are the M&A deals, rumors and chatter circulating on Wall Street for Monday September 16, 2013:
Report KKR, Sycamore Partners to Bid for Jones Group
The Rumor:
Shares of Jones Group (NYSE: JNY) moved higher Monday on renewed takeover chatter. A report from Deal Reporter said KKR (NYSE: KKR) and Sycamore Partners were joining forces to put together a bid for the apparel manufacturer.
Bloomberg first reported on June 8 that Jones Group had hired Citigroup to explore a possible sale of all or part of the company.
A spokesperson for KKR declined comment on the rumor, while spokespersons for Jones Group and Sycamore Partners were not available.
Jones Group closed Monday at $51.90.
Rockwood Reportedly in Talks to Sell TiO2 Assets to Hunstsman
The Rumor:
Shares of Rockwood Holdings (NYSE: ROC) and Huntsman (NYSE: HUN) surged higher Monday on a report from Reuters that Rockwood was in talks to sell its titanium dioxide assets to Hunstsman. According to a source, a deal could be signed in the next few days, with a value of $1-1.2 billion, including debt.
Hilltop Holdings closed at $66.61 Monday, a gain of 1%, while Huntsman failed to hold its gains, closing at $19.14, a loss of $0.13.
Google Acquires Bump for $30M-$60M
The Deal:
Google (NASDAQ: GOOG) acquired mobile startup Bump for between $30 million and $60 million, according to AllThingsD. Bump's blog confirmed the acquisition: "Our mission at Bump has always been to build the simplest tools for sharing the information you care about with other people and devices. We strive to create experiences that feel like magic, enabled behind the scene with innovations in math, data processing, and algorithms. So we couldn't be more thrilled to join Google, a company that shares our belief that the application of computing to difficult problems can fundamentally change the way that we interact with one another and the world."
Google closed at $887.76 Monday, a loss of $1.31.
Splunk to Acquire BugSense
The Deal:
Splunk Inc. (NASDAQ: SPLK) announced Monday it has agreed to acquire analytics solution BugSense. Terms of the deal were not disclosed. The transaction is expected to close during Q3 2014.
Splunk closed at $59.11 Monday, a loss of $0.43.
View Comments and Join the Discussion!