The Sad Story Behind The Rumored Chrysler IPO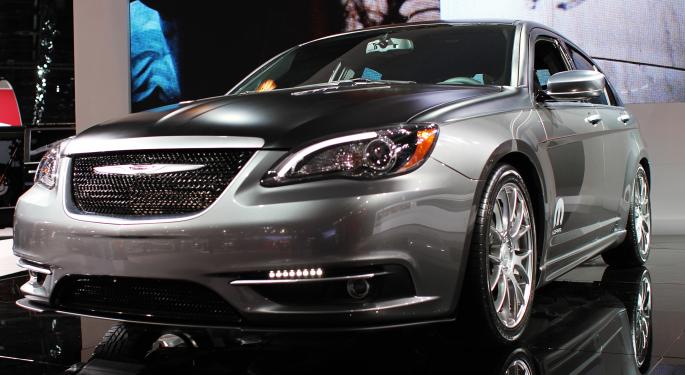 If you only read the headlines, you might see the announcement of a Chrysler IPO as more proof that the American auto industry is back, but further investigation would indicate otherwise.
Remember "The Big Three" automakers? You know, Ford (NYSE: F), General Motors (NYSE: GM) and Chrysler—three companies that made Detroit the automobile mecca of the world during the 20th century?
Invest in IPO shares before the stock hits the market with ClickIPO. Check it out here
Then came the financial crisis of 2007. Banks were hit hard, but for an auto industry that was already in decline, what is now called, 'The Great Recession,' was all these companies could take. Chrysler filed for bankruptcy in April of 2009 and General Motors soon after in June. (Ford fell on tough times but made it through without having to file by making some wise preemptive financial decisions.)
When General Motors re-emerged and IPOed, it was a psychological boost for the auto industry. However, Chrysler hasn't been the success story that the others were.
Then came news that Chrysler may file for an IPO this week or sometime this month depending on conflicting reports. Reading the headlines, some would say that this would complete the big-three emergence but sadly, that isn't true.
In fact, the IPO appears to be creating a bidding war between the public and Fiat. Here's why. 41.5 percent of Chrysler is owned by a VEBA affiliated with the United Auto Worker's Union. The stake was never intended to be a long-term holding and the UAW has indicated that it's ready to sell the stake for the right price.
Related: SLIDESHOW: Models To Watch Out For In 2014
It already has an interested buyer. Fiat, the company that owns a 58.5 percent stake in Chrysler, wants to have it all, but the two cannot agree on a price. The VEBA reportedly wants $5 billion for the stake but UBS (NYSE: UBS) analysts believe it to be worth around $4 billion.
The IPO appears to be a way to let the public assign a fair value that would allow the two sides to negotiate further. Sergio Marchionne, the CEO of both Fiat and Chrysler, said that talks are stalled between it and VEBA.
Speaking of the IPO, he said, "We need to go through this process of determining value."
The IPO would likely take place at the end of 2013 or first quarter of 2014 but that wouldn't mean that a sale still couldn't take place. In other words, this could be a very short-lived IPO. However, both sides would prefer to see a deal in place before going public.
Another dimension to this not-so-American-success-story is the fact that VEBA can only IPO up to 25 percent of its stake because an existing agreement gives Fiat the right to exercise options to gradually purchase portions of Fiat's holdings.
 It would be nice if this was proof that an American icon was returning to its rightful place as part of the American automaker landscape but that will not likely be the case.
Instead, "The Big Three" might now be, Ford, General Motors and Tesla (NASDAQ: TSLA).
Disclosure: At the time of this writing, Tim Parker had no position in the above mentioned companies.
Posted-In: Chrysler Fiat Ford General Motors TeslaNews Rumors IPOs Best of Benzinga
View Comments and Join the Discussion!