Notable Highlights from Wednesday's Mayer/Zuckerberg Interviews (FB, YHOO)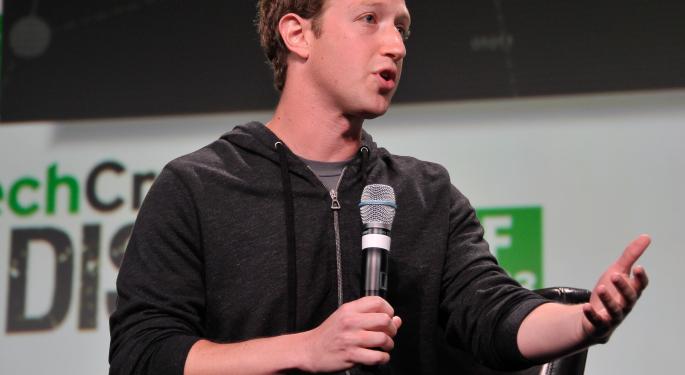 At the TechCrunch Disrupt Conference Wednesday, there were two interviews that made for some great online viewing.
Yahoo's (NASDAQ: YHOO) Marissa Mayer and Facebook's (NASDAQ: FB) Mark Zuckerberg were interviewed in separate events. Here are the notable moments from each interview.
After an extremely awkward beginning where the interviewer asked her to autograph her picture in a recent issue of Vogue, Mayer went on to talk about Yahoo's recent logo change. She said that 87 percent of Yahoo's employees wanted a change and that it hadn't change in 18 years. Going forward, the logo will likely change slightly at regular intervals.
Next, she said that the company receives 12,000 resumes per week—roughly one for every current Yahoo employee. In terms of traffic, the site now receives 800 million active users each month, not counting Tumblr, which receives another 300 million.
Finally, she said that Yahoo! is, at its core, is a personalization company. She pointed to the new Yahoo! newsfeed as an example.
To view the interview, click here.
Then came Facebook's Mark Zuckerberg. In what was a far less flirtatious tone by the interviewer, Zuckerberg pointed out that Facebook now has 699 million active daily users and 40 percent of the company's revenue comes from mobile, compared to almost none not long ago.
Zuckerberg went on to say that although he would like the entire world on Facebook, he knows that it's not realistic. The mission of the company, which has never changed, is to connect the world and to develop tools that help others use social media as a tool just as Facebook has. He pointed to such technologies as the ability for web authors to allow users to log in using their Facebook account.
Related: Get Ready to Picture Instagram Monetized
In one of the most interesting parts, Zuckerberg spoke about how Facebook has a culture of moving fast. Instead of exhaustive testing, he encourages engineers to roll out and test ideas rapidly in order to receive feedback. If people don't like it, adjustments are made.
Zuckerberg admitted that, "it gets us into tons of trouble" but the company's "Done is better than perfect" approach is its strategy for not being late to the market with new innovation.
Finally, he spoke about Internet.org—an initiative, much like Google's (NASDAQ: GOOG), to get everybody connected to the internet, which he calls, "the modern knowledge economy."
To view Zuckerberg's interview, click here.
Disclosure: At the time of this writing, Tim Parker had no position in the above named companies.
Posted-In: Facebook Google Marissa Mayer Mark Zuckerberg YahooNews Events Tech Best of Benzinga
View Comments and Join the Discussion!