Benzinga's M&A Chatter for Tuesday September 10, 2013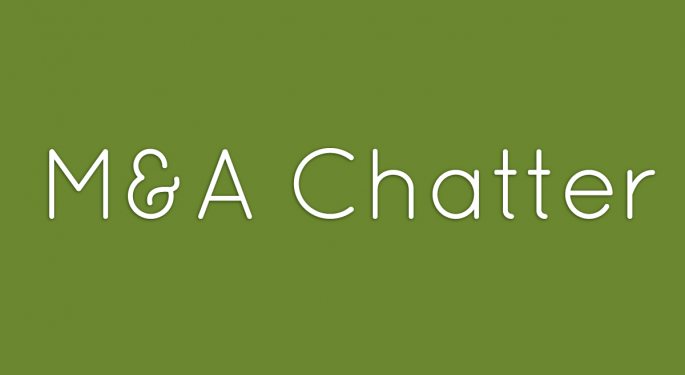 The following are the M&A deals, rumors and chatter circulating on Wall Street for Tuesday September 10, 2013
Cisco Intends to Acquire WHIPTAIL for $415M in Cash
The Deal:
Cisco (NASDAQ: CSCO) announced Tuesday it intends to acquire privately held data storage company WHIPTAIL for $415 million in cash. The deal is expected to close in Q1 of FY 2014.
Cisco closed Tuesday at $24.16, a gain of 1%.
3D Systems Acquires The Sugar Lab
The Deal:
3D Systems (NYSE: DDD) announced Tuesday that it has acquired start-up micro-design firm The Sugar Lab. Terms of the deal were not disclosed.
3D Systems closed at $52.41 Tuesday, gaining $0.13.
Time Inc. to Acquire American Express Publishing
The Deal:
Time Inc. (NYSE: TWX) and American Express Company (NYSE: AXP) announced Tuesday an agreement for Time Inc. to acquire American Express Publishing, which includes including Travel + Leisure and Food & Wine. Terms were not disclosed. The deal is expected to close in Q4 2013.
American Express closed at $74.60 Tuesday, gaining more than 1%.
View Comments and Join the Discussion!