Dow Jones Industrial Average ETF Gets A Makeover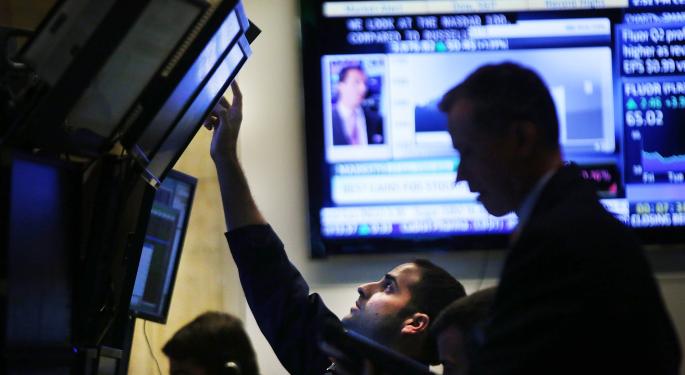 The SPDR Dow Jones Industrial Average ETF (NYSE: DIA), the tracking ETF for the 30 blue-chips that comprise the venerable Dow, will be getting a big makeover on Sept. 23.
That is the first day the Dow and subsequently DIA will open for trading with Goldman Sachs (NYSE: GS), Nike (NYSE: NKE) and Visa (NYSE: V) as members.
Alcoa (NYSE: AA), Bank of America (NYSE: BAC) and Hewlett-Packard (NYSE: HPQ), the Dow's lowest priced stocks, are being booted from the price-weighted index. The changes come almost exactly it was announced that UnitedHealth (NYSE: UNH) would replace Kraft (NASDAQ: KRFT) as a member of the Dow.
Since the Dow is a price-weighted index, DIA's largest holding is International Business Machines (NYSE: IBM) at 9.43 percent followed by Chevron (NYSE: CVX) at 6.23 percent, according to State Street data. The combined share price of Alcoa, Bank of America and HP currently hovers around $45, meaning that trio accounts for just about 2.3 percent of DIA's weight.
Said another way, combined Alcoa, Bank of America and Hewlett-Packard are less than half as important to DIA's returns than United Technologies (NYSE: UTX), the ETF's fifth-largest holding.
Assuming prices stay relatively static over the next two weeks, Visa would enter the Dow as the index's second-largest holding, surpassing Chevron. Via traded around $184 at this writing, about $62 above Chevron. At around $66, Nike would usurp Walt Disney (NYSE: DIS) for the number 16 spot in DIA if the changes were made today.
Goldman will likely go into the Dow as the third-largest constituent and with the addition of Visa and Goldman, Caterpillar (NYSE: CAT) and Travelers will move out of DIA's top-10 holdings.
With these DIA changes afoot, the next batch of potential Dow departures includes three more tech three more tech names and General Electric (NYSE: GE), the longest running member of the index. Intel (NASDAQ: INTC), Cisco (NASDAQ: CSCO) and Microsoft (NASDAQ: MSFT) are the Dow tech names that could be vulnerable to receiving an invitation to leave the index. Pfizer (NYSE: PFE) cannot be excluded from that conversation either.
Based on current share prices, adding those five stocks up would equal a stock that is barely more important to DIA than Chevron currently is.
For those complaining about why Apple (NASDAQ: AAPL) and Google (NASDAQ: GOOG) were not asked to join the Dow, first think of how absurd a price-weighted index would look with a $500 stock and an almost $900 stock. Then, write a letter to those companies begging for a share split.
Actually, do not bother. If companies like Apple and Google really wanted to be in the Dow and really cared about retail investors, they would have long ago split their stocks.
For more on ETFs, click here.
Disclosure: Author does not own any of the securities mentioned here.
View Comments and Join the Discussion!
Posted-In: Broad U.S. Equity ETFs Markets ETFs Best of Benzinga