Microsoft Buying Nokia for $7.2 Billion, Here's Why (MSFT, NOK)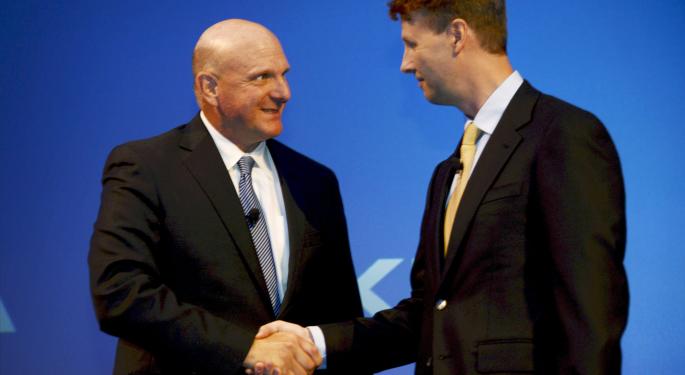 What do you do if you're in market that is clearly dominated by two giant players and you can't gain more than a single digit foothold?
What do you do if your latest tablet has sales that came in less than expected and you cut the price of it by $100?
You can purchase most of Nokia (NYSE: NOK), another company that has struggled to gain foothold in the cell phone space, for $7.17 billion.
That's exactly what Microsoft (NASDAQ: MSFT) announced late Monday. The move makes Microsoft the owner of Nokia's devices and services business along with licenses to Nokia's patents.
It also places 32,000 extra employees on Microsoft's payroll, including some talented designers and ex-Microsoft employees, as well as ex-Nokia CEO Stephen Elop—somebody who is rumored to be in the running for Steve Ballmer's job.
Related: SLIDESHOW: Who Could Replace Microsoft CEO Steve Ballmer?
The deal has investors bidding up Nokia 40 percent in early trading Tuesday, but has some Microsoft faithfuls scratching their head. Doubling down on an investment that isn't working can be considered a retail investor mistake, so why is Microsoft dumping more resources into its cellphone business that currently has all of a 3.5 percent market share in the United States?
One theory could be that Microsoft, like the other mobile giants, sees a ton of opportunity in other markets.
In the UK, for example, Microsoft's Windows Phone market share doubled year over year in the most recent quarter from 4.2 percent to 9.2 percent. Combining the five major European territories, which include Germany, the United Kingdom, Italy, France and Spain, the Windows Phone now has an 8.3 percent market share, thanks to the sale of Nokia phones, which hold a much better reputation in Europe.
Windows Phones are doing better in markets that don't heavily subsidize handsets because of Microsoft's ability to sell the phones more cheaply than Apple (NASDAQ: AAPL)—a company that is soon expected to debut a "low cost" iPhone.
Does that mean that all of the preliminary negativity from investors is unfair? Probably not, given Microsoft's recent string of products, including the Surface Tablet, Windows 8 and its phones, but there's certainly value in the new influx of talent and the intellectual property even if, worst case scenario, it does little to give the company a larger foothold in the cellphone space.
Disclosure: At the time of this writing, Tim Parker was long Apple.
Posted-In: Apple iPhone Microsoft Nokia Stephen ElopNews M&A Tech Best of Benzinga
View Comments and Join the Discussion!