Fast Food Workers to Strike Thursday, But Don't Expect Anything to Change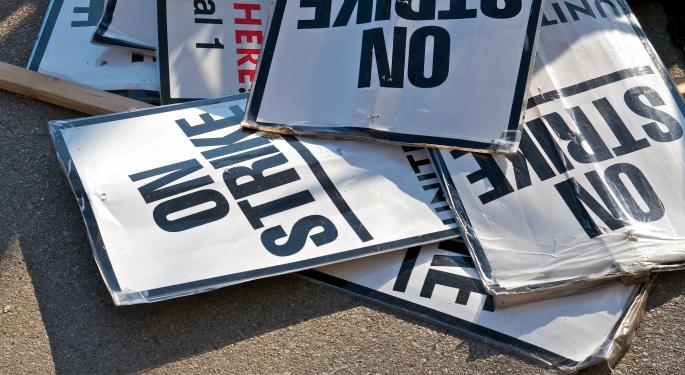 Restaurant workers working for companies like McDonald's (NYSE: MCD), Wendy's (NASDAQ: WEN) and others in as many as 35 cities will strike Thursday as they call for higher pay and the right to unionize.
Their demands, which include raising minimum wage from $7.25 to $15 per hour, haven't gone unnoticed but the chances of either happening are slim—at least for now.
The problem is nothing new. The fast food industry used to employ teens for one out of every four jobs but that number has dropped to 16 percent. Because the economy hasn't given back all of the jobs lost in the most recent recession, adults, many of which have some amount of education and experience, have taken these jobs as the only way to provide for their families. However, at wages close to the national minimum wage of $7.25, supporting a family still remains difficult for fast food workers.
The issue is becoming increasingly heated with strong opinions on both sides. Dearius Merritt, an employee of Church's Chicken in Tennessee, said, "These companies that own these fast food restaurants, they make way too much money off the backs of the employees."
Related: Four Top Comfort Food Restaurant Stocks Of The Summer
On the other side, the companies are saying that because most fast food restaurants are franchises, the owners of the individual restaurants make all decisions concerning hiring, firing, wages, and labor practices. According to Burger King (NYSE: BKS) 99 percent of stores are franchised.
The National Restaurant Association, which serves as the restaurant industry's trade group and lobbying arm, also points out that only about five percent of restaurant workers make minimum wage and seven out of every 10 of those are under the age of 25.
Then there's the argument that restaurant workers should watch what they wish for. Former McDonald's CEO Ed Rensi said that a $15 per hour minimum wage would "absolutely kill" jobs in the industry. Restaurants, forced to pay $15 per hour, would hire less employees leaving many without jobs.
Lawmakers aren't likely to approve a $15 minimum wage but according to economists, studies have found that if it were to increase by a few dollars, unemployment probably wouldn't rise.
Although the strikes are expected to gain steam, only a fraction of the 2.4 million fast food restaurant workers nationwide are taking part. Because they're non-unionized, striking could mean losing the job they desperately need.
Disclosure: At the time of this writing, Tim Parker had no position in the above mentioned stocks.
Posted-In: Burger King McDonalds Corp wendy'sNews Management Events Best of Benzinga
View Comments and Join the Discussion!