Verizon and Vodafone Trying to Strike a Deal--Again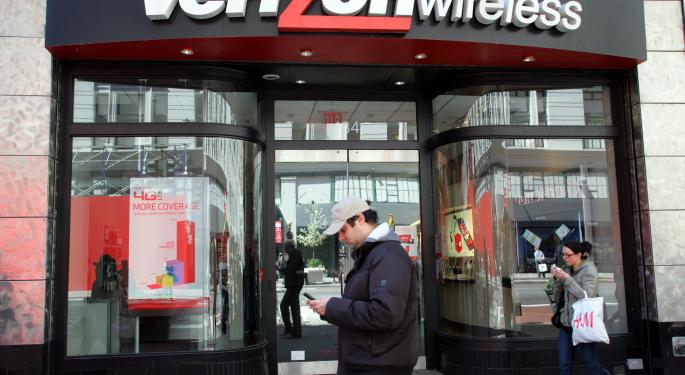 It looks like the talks are back on…again.
Vodafone (NASDAQ: VOD) confirmed that it was talking to Verizon (NYSE: VZ) about selling its 45 percent stake in Verizon Wireless to Verizon communications. If this whole thing feels a little like the recent Onyx Pharmaceuticals (NASDAQ: ONXX) deal with Amgen (NASDAQ: AMGN), you would be right—except this deal is much larger.
Related: Amgen and Onyx Finally Ink Deal Two Months In The Making
If you missed the Onyx/Amgen story, the two companies had a series of on-again, off-again negotiations that seemed to unnecessarily drag out a process that most of Wall Street knew was going to happen anyway. In a deal announced Monday, Amgen will purchase Onyx for $10.4 billion ending negotiations which, at times, included drama and bickering that was fit for reality TV.
The Verizon/Vodafone deal has the same on-again, off-again component with a lot of back and forth wrangling that ranged from threats of a hostile takeover to a full merger of the two companies. The difference between the two deals, however, is price. A deal between the two giants would likely cost Verizon around $130 billion and according to sources familiar with matter, Verizon is hitting up multiple banks to raise about $60 billion to fund the buyout.
Vodafone acknowledged the bid but took a cautious tone saying there's "no certainty that an agreement will be reached." Verizon declined to comment on the news.
The two have tried to make a deal for years. Vodafone, the world's second largest wireless carrier, has said that it's happy with how its Verizon stake is performing but would consider buyout offers for the right price.
Verizon made an unofficial offer of $100 billion in April but Vodafone rejected it saying that it would want something closer to $130 billion. At the time, analysts valued the stake at around $120 billion. This led Verizon to say that it may consider a hostile takeover bid but that never materialized.
As its landline business continues to shrink, Verizon is relying more on its wireless arm to produce revenue and winning back Vodafone's stake would allow it to make acquisitions and expand into other, faster-growing regions, according to Bloomberg.  Vodafone has spent the last three years divesting from joint ventures where the company doesn't have full control.
The merger would be the largest since a 2000 deal between Vodafone and Mannesmann AG. Vodafone was up as much as nine percent in Europe on Thursday.
Disclosure: At the time of this writing, Tim Parker had no position in the above mentioned companies.
Posted-In: amgen Bloomberg Mannesmann AG Onyx Verizon VodafoneNews M&A Best of Benzinga
View Comments and Join the Discussion!