Benzinga's M&A Chatter for Wednesday August 28, 2013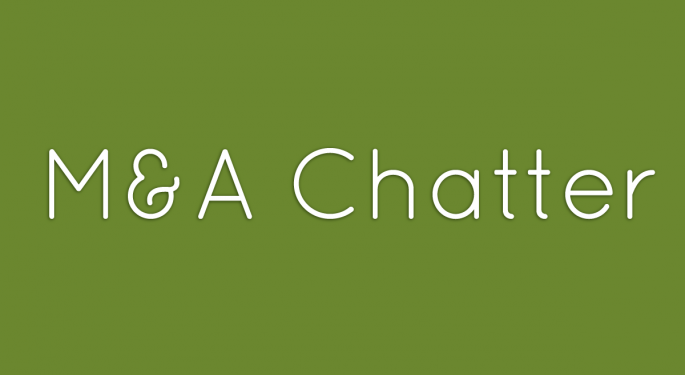 The following are the M&A deals, rumors and chatter circulating on Wall Street for Wednesday August 28, 2013:
Renewed Chatter of Lenovo Bid Sends BlackBerry Shares over $10
The Rumor:
Shares of BlackBerry (NASDAQ: BBRY) rose on Wednesday on market chatter of a potential bid of $17 per share from Lenovo (OTC: LNVGY).
Spokespersons for BlackBerry and Lenovo declines comment on the rumor.
BlackBerry closed at $10.30 Wednesday, a gain of more than 2.5% on higher than average volume.
Delta Apparel Acquires Salt Life Brand
The Deal:
Delta Apparel (NYSE: DLA) announced Wednesday that its wholly-owned subsidiary, To The Game, LLC, has acquired substantially all of the assets of Salt Life Holdings, LLC,
including trademark rights in the Salt Life brand. The purchase price is $15 million in cash, two promissory notes in the aggregate principal amount of $22 million, and an additional payment contingent on certain performance targets being met with respect to sales of Salt Life products in calendar 2019.
Delta Apparel closed at $15.70 Wednesday, a loss of $0.05.
Apple Acquires AlgoTrim
The Deal:
Apple (NASDAQ: AAPL) confirmed to AllThingsD Wednesday that it has acquired Swedish startup AlgoTrim. The company develops compression algorithms for mobile phones.
Terms of the deal were not known.
Apple closed at $490.90 Wednesday, a gain of $2.31.
View Comments and Join the Discussion!