Are You Ready For Cops With Wearable Cameras?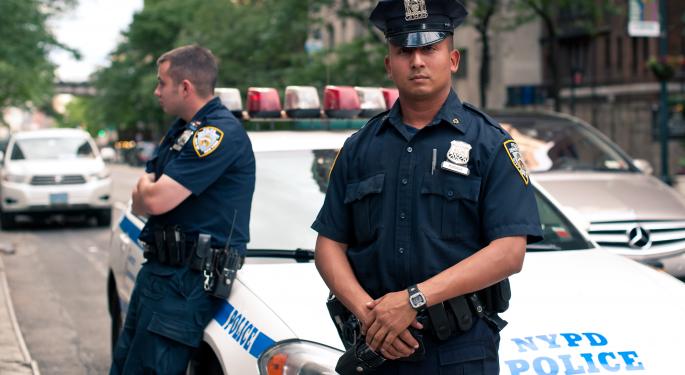 With television shows like MSNBC's Caught on Camera, the world is quite familiar with police cruiser dashboard cams depicting car chases, belligerent drivers and even daring rescues.
Now, thanks to a federal judge's ruling on the New York Police Department's controversial stop-and-frisk policy, many believe police officers will soon be outfitted with wearable cameras to provide additional video backup for law enforcement.
According to CNNMoney, this makes companies like Taser International (NASDAQ: TASR) very happy. In addition to its namesake stun gun, Taser also makes a wearable video camera called Axon.
The camera is relevant because the federal judge in the NYPD case, Judge Shira Scheindlin, ordered a one-year pilot program in which some NYPD officers would be equipped with wearable cameras.
Related: Stop and Frisk Tactics By NYPD Constitute Racial Profiling In Violation Of 4th and 14th Amendments, Federal Judge Rules
And, as New York goes, so goes the rest of the country. At least that is what many investors think. Taser's stock surged more than 30 percent in the past two weeks on speculation that demand for the Axon camera will soar as more police departments begin placing orders.
The buying spree has already started. So far, more than a dozen departments nationwide have decided to use Axon video cameras, including Dallas, Albuquerque, N.M., and Greensboro, N.C., according to CNNMoney.
After deciding to issue Taser's cameras to all patrol officers, Surprise, AZ police chief Mike Frazier told CNNMoney, "These cameras add a new level of documentation that will be very useful to officers and residents, as they capture video and audio during a traffic stop or at a crime scene in varying light and audio situations."
Glenn Mattson, analyst at Sidoti & Company, said he believes the adoption of video cameras by New York City police officers would raise the status of wearable technology like the Axon camera. Mattson boosted his price target on Taser to $13, representing a 15 percent bump from current levels.
According to the San Francisco Examiner, certain San Francisco police officers will wear $1000 chest cameras when serving search warrants. The newspaper quoted Police Chief Greg Suhr who said the cameras would roll out "over the next month to six weeks."
Other companies that make wearable police officer cameras include Digital Ally (NASDAQ: DGLY), Panasonic and Vievu. However, Steve Dyer, senior research analyst at Craig-Hallum Capital Group, said Taser is the clear leader in that space.
Meanwhile, in the "You knew this would happen" department, The Kernel suggested that if all police officers were fitted with their own Google (NASDAQ: GOOG) Glass device, society as a whole would be better.
Related: Google Wants To Make Looking Dorky Fashionable
At the time of this writing, Jim Probasco had no position in any mentioned securities.
Posted-In: Albuquerque Axon AZ Caught on Camera chest camerasNews Events Media Best of Benzinga
View Comments and Join the Discussion!