Apple Patent Suggests iPhone Smart Home Remote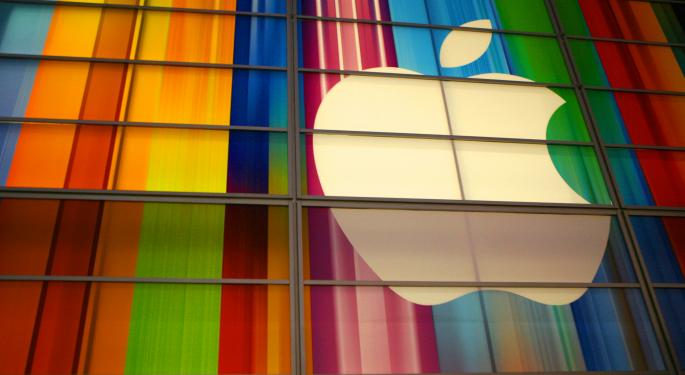 On Tuesday, the U.S. Patent and Trademark Office published a patent by Apple (NASDAQ: AAPL) that outlines a way in which an iPhone or other portable device could set up, save and manage settings in your in-home entertainment systems, including lighting and other smart devices such as window shades.
According to the patent, which Apple Insider said was first filed five years ago, the settings are called "scenes. Alan Cannistraro, who also wrote the code for the first iTunes Remote iOS app, developed the system.
Compared to iTunes Remote, which manages your iTunes library and Apple TV, the new system is light years ahead in scope and function. The new remote system, if it is ever developed, would be an intelligent universal remote capable of coordinating multiple audio and visual components along with lights, window shades, and possibly other devices.
Current available intelligent remotes, with settings like "Watch a movie" or "Play a game" require a great deal of user setup, according to Apple Insider. The system proposed by Apple not only allows for the addition of other devices such as smart window blinds and lighting, but also intuitively suggests settings (scenes), based on data collected over time.
For example, TechCrunch reported that the patent suggests the system would notice that you are watching an action movie or sports event, and suggest an appropriate setting. Likewise, if you were watching a romantic movie, the system might suggest a very different scene setting altogether.
The system appears to have broadcast television in mind when it comes to scene selection, suggesting that if Apple eventually moves into an over-the-top service, the new system would be compatible. It even includes a feature that provides for waiting until there is a commercial on the TV before suggesting a scene change.
Much of the technology required to implement the system did not exist when Apple first filed the patent. In addition, compatibility with older devices might be an issue. All this leads to the possibility that this patent was more "pie in the sky" than a realistic plan.
Given recent advancements and various Apple rumors over the past few years, however, it is also possible that the day is drawing near when you can sit down in your living room, ask Siri to dim the lights, draw the shades, turn on the fireplace, and play Sleepless in Seattle for a quiet romantic evening at home with that special someone.
You will probably have to make your own popcorn.
At the time of this writing, Jim Probasco had no position in any mentioned securities.
Posted-In: Alan Cannistraro Apple Apple TVNews Rumors Events Tech Media Best of Benzinga
View Comments and Join the Discussion!