Amgen and Onyx Finally Ink Deal Two Months In The Making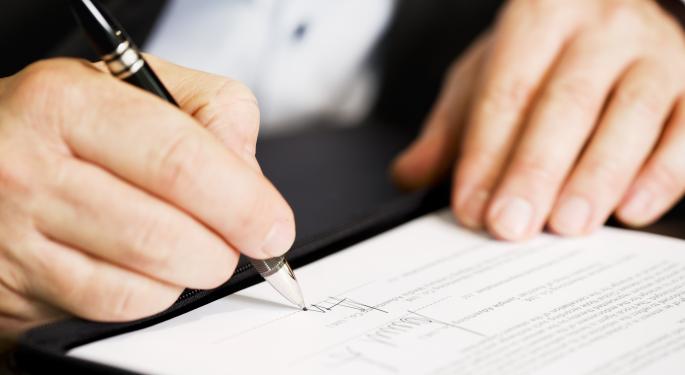 On Sunday, after months of trying to work out a deal, Amgen (NASDAQ: AMGN) and Onyx (NASDAQ: ONXX) announced that Amgen will acquire Onyx for $125 per share valuing the deal as $10.4 billion.
The announcement is about as much of a surprise as those two flirtatious coworkers that later told everybody they were dating.
Here's the story that felt a lot like a high school dating drama.
Amgen was originally interested in Onyx, but only wanted to pay $120 per share. Onyx felt like the deal undervalued it so it went looking for other potential prom dates (or acquirers). The company got the interest of such giants as Pfizer (NYSE: PFE), Novartis (NYSE: NVS), and  AstraZeneca (NYSE: AZN).
Maybe that made Amgen a little jealous, because rumors of Amgen once again pursuing Onyx came from multiple sources and as the other suitors said, "no thanks", the Amgen/Onyx deal looked promising.
Then, Amgen wanted to see preliminary Phase III data from Onyx's Kyprolis, a drug already approved in the United States to treat multiple Myeloma. Onyx, continuing to play hard-to-get, originally said no but later said that anybody who wanted to purchase the company could have access to the data. After that, Amgen was convinced.
Why did it take so long for these two to come together? Because Amgen was trying to play the "you need us more than we need you" card but Onyx wasn't going to fall for it. The truth is that Amgen has major pipeline trouble. First, its two anchor anemia drugs, Aranesp and Epogen, both came under fire for safety concerns that caused sales to plummet.
Read: Amgen To Acquire Onyx Pharmaceuticals For $125 Per Share In Cash
Equally alarming, four of its five best-selling drugs will begin losing patent protection in 2015. Amgen needed some blockbuster additions to its pipeline that would be best-found in an established company instead of a few microcap startups.
Onyx's drug, Kyprolis is expected to reach sales of nearly $2 billion per year.
Along with that, Amgen will gain a revenue stream from Nexavar, a kidney and liver cancer drug as well as royalty payments from colon cancer drug, Stivarga. There's also potential for royalties coming from an experimental breast cancer drug in development by Pfizer.
Onyx fit the needs of Amgen perfectly and that's why Amgen probably came back. To be fair, it wasn't a total win for Onyx. Early rumors circulated that Amgen would end up paying $130 for the company. Instead, Amgen only had to raise its bid by $5.
Disclosure: At the time of this writing, Tim Parker had no position in the above mentioned stocks.
Posted-In: amgen AstraZeneca Novartis Onyx PfizerNews M&A Hot Best of Benzinga
View Comments and Join the Discussion!