Benzinga's Weekend M&A Chatter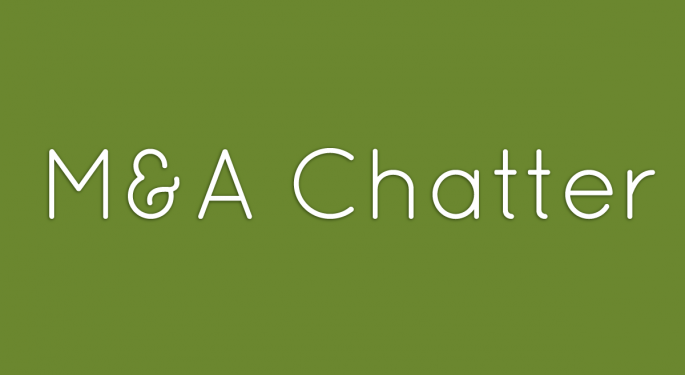 The following are the M&A deals, rumors and chatter circulating on Wall Street for Friday August 22 through Sunday August 25, 2013:
UPDATE: Amgen Acquires Onyx Pharmaceuticals for $125/Share in Cash
The Deal:
Amgen (NASDAQ: AMGN) and Onyx Pharmaceuticals (NASDAQ: ONXX) announced Sunday that their Boards of Directors have unanimously approved Amgen's purchase of the outstanding shares of Onyx for $125 per share in cash or $10.4 billion.
The deal is expected to close at the beginning of Q4 2013.
Onyx Pharmaceuticals closed at $116.94 Friday, a loss of $0.63.
Baidu Acquires 59% Interest in Renren's Nuomi for $160M in Cash
The Deal:
Baidu (NASDAQ: BIDU) and Renren (NYSE: RENN) announced Friday that Baidu Holdings will acquire approximately 59% of the equity interest in Nuomi Holdings, a wholly-owned subsidiary of Renren, for $160 million in cash. The deal is expected to close in Q4 2013.
Baidu closed at $138.64.86 Friday, a loss of $0.90, while Renren closed at $3.56, a gain of more than 4.5%.
BATS, Direct Edge Reportedly in Merger Talks
The Rumor:
The BATS and Direct Edge exchanges are reportedly in merger talks, according to the Wall Street Journal. A combination of the rival exchanges would be larger than the Nasdaq OMX Group (NASDAQ: NDAQ), currently the second largest US exchange behind the NYSE Euronext (NYSE: NYX).
Nasdaq OMX Group closed at $30.83 Friday, a gain of more than 1%, while NYSE Euronext closed at $42.66, losing $0.03.
View Comments and Join the Discussion!