Microsoft Bing Is Growing Market Share (MSFT)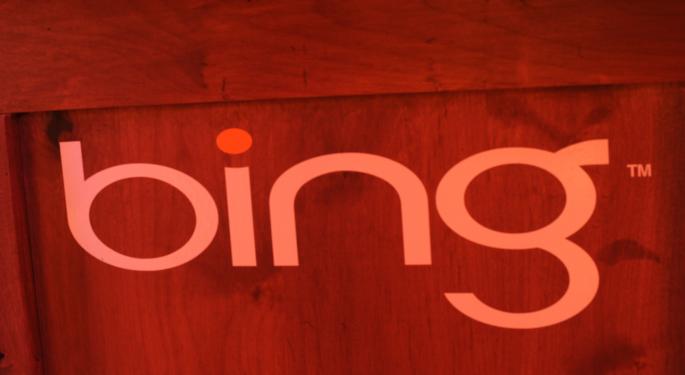 Not everybody "Googles" every time they perform an Internet search. According to comScore (NASDAQ: SCOR) in July, almost 18 percent of searches were conducted using Microsoft (NASDAQ: MSFT)'s Bing.
While it's true Google (NASDAQ: GOOG) retained its sizable lead with 67 percent, Bing's gain over last year (up from 15.7 percent) was more than that of Google, which rose only two tenths of a percent over the same period as reported by Search Engine Watch.
Much of the credit on Microsoft's behalf may go to the Bing it On campaign in which the company invited users to conduct a blind search test similar to the Pepsi Challenge  taste test issued by PepsiCo Inc. (NYSE: PEP) several years ago. With the Pepsi event, consumers picked that brand over Coca-Cola (NYSE: KO)'s Coke about half the time. Microsoft claims the blind search test resulted in testers choosing Bing over Google more than half the time.
Credit also goes to the fact that Microsoft spent considerable resources improving its search engine. In July 2012, Microsoft announced major changes to Bing including faster page loading, more relevant search results, and several cosmetic changes, according to V3CoUK. At that time, Bing laid claim to a little more than four percent of search queries while Google garnered almost 90 percent.
Microsoft forged ahead. In March of this year, Microsoft held a private event for employees during which it showcased improvements in Bing's voice search for Windows Phone, according to Engadget.
This development will become more important if, as some predict, Windows Phone gains more traction in the smartphone space and Windows 8.1 use grows with laptop and PC sales. The use of the word "if" is critical.
Related: Microsoft to Announce Major Restructure as Soon as Thursday
Along with smartphone sales overtaking feature phone sales, the Windows Phone OS recently overtook BlackBerry (NASDAQ: BBRY) as the number 3 smartphone operating system, according to Tech2. Of course, being number three only accounts for a little more than three percent of market share. Google's Android OS owns 79 percent of the market with Apple (NASDAQ: AAPL)'s iOS number two with 14 percent.
As far as search engines are concerned, while Microsoft's Bing has been gaining, other competitors to Google have been losing. Specifically, Yahoo! (NASDAQ: YHOO), Ask Network, and AOL (NYSE: AOL) all lost market share over the past year.
Yahoo dropped from 13 percent to 11.3 percent, privately owned Ask Network went from 3.1 percent to 2.7 percent, and AOL, already in the basement, fell from 1.5 percent to 1.2 percent of market share according to Search Engine Watch.
At the time of this writing, Jim Probasco had no position in any mentioned securities.
View Comments and Join the Discussion!
Posted-In: Android OS AOL Apple Inc. Ask NetworkNews Events Tech Media Best of Benzinga