Ackman And J.C. Penney Reach Agreement For Stock Sales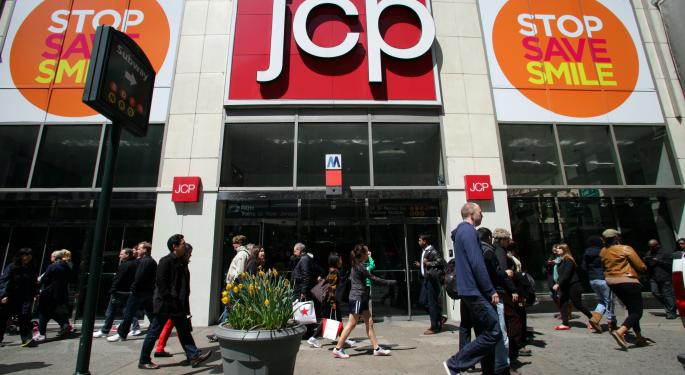 Activist investor Bill Ackman of Pershing Square Capital Management has had one heck of a week.
First, he publicly fought a war of words with the board of J.C. Penney (NYSE: JCP) as he pushed to replace CEO Mike Ullman as well as bring in a new Chairman of the Board. He quickly lost that fight and resigned from the board and now will look to sell his whopping 17.78 percent stake in the company.
Registered Sale
In a form 8-K this morning, J.C. Penney announced that it had "entered into a Registration Rights Agreement with Pershing Square Capital Management, L.P., PS Management GP, LLC, Pershing Square GP, LLC, William A. Ackman and certain affiliated Pershing Square funds." Under the agreement, Ackman and Pershing may sell stock in four lots by registering the stock with the Securities and Exchange Commission until his stake dwindles to 5 percent or less.
SURVEY: What Do You Think Of J.C. Penney After Ackman?.
Effectively, Ackman needs to sell one-fourth of his holdings less the five percent threshold at a time, meaning that, on average, he will sell 3.195 percent of the shares of J.C. Penney at a time. At Thursday's close, each of these sales would be worth about $97.2 million.
After these four sales, Ackman would be left with 5 percent of the stock or about a $152 million stake. From there, the registration agreement is terminated and Ackman can sell his shares whenever he wishes without any restrictions (technically, he would need to decrease his stake to below 5 percent, so he would need to sell one extra share than the numbers used; it was easier to use the round percentages for a thought experiment).
Sales Rebounding
Wednesday, the New York Post reported that traffic in J.C. Penney stores may have been rebounding in July, according to sources at the company. Shares rallied on the news but skepticism still reigns over the stock as many fear that the cash burn at the company could force it into bankruptcy.
Two weeks ago, Belus Capital Advisors' Brian Sozzi told Benzinga that J.C. Penney was in trouble and that the cash burn fears could trump any turnaround in traffic unless increased traffic can turnaround sales. Read more of Sozzi's comments here.
Shares Lower
Shares of J.C. Penney traded lower in the pre-market but rallied at the open off of the lows. Shares traded lower by 0.8 percent at $13.71 per share.
Author disclosure: I do not have a position nor have I in the last month in any of the aforementioned securities.
Have Your Say On J.C. Penney and Take This Survey
Posted-In: Belus Capital Advisors Bill Ackman Brian Sozzi Insider SalesNews Management Insider Trades Hot Best of Benzinga
View Comments and Join the Discussion!