Benzinga's M&A Chatter for Wednesday August 14, 2013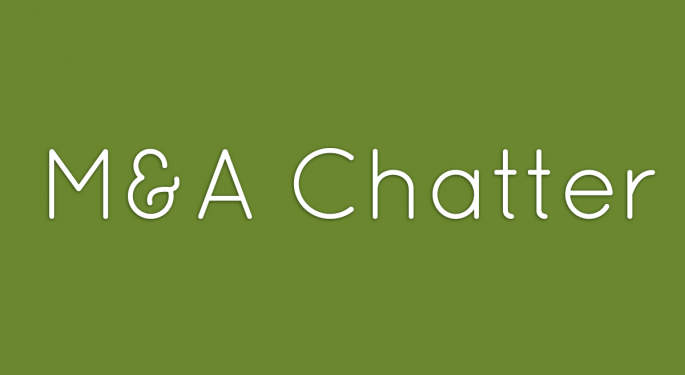 The following are the M&A deals, rumors and chatter circulating on Wall Street for Wednesday August 14, 2013:
American Airlines, US Airways Host Conference Call to Discuss DOJ Action
The Conference Call:
US Airways (NYSE: LCC) and American Airlines (OTC: AAMRQ) hosted a conference call Wednesday to defend their merger in defense of the DOJ's plans to block it. An attorney involved in the case, said the companies are in talks with government on a trial date.
On Tuesday, a spokesman for US Airways told Benzinga they believed the DOJ was wrong in its assessment of the merger and that they planned to mount a vigorous defense.
US Airways closed at $16.17 Wednesday, a loss of 1% on 4 times average volume.
Paulson to Acquire Steinway for $40/Share
The Deal:
Steinway Musical Instruments (NYSE: LVB) and investment firm Paulson & Co announced Wednesday that entities affiliated with Paulson have agreed to acquire Steinway for $40 per share or approximately $512 million.
On August 13, 2013, Kohlberg & Company stated it would not match the terms of the Paulson offer. Kohlberg will recieve a termination fee of approximately $6.7 million.
The transaction is expected to close in late September.
Steinway Musical Instruments closed at $41.29 Wednesday, a gain of almost 8% on 10 times average volume.
Baidu to Acquire 91 Wireless for $1.90B
The Deal:
Baidu announced Wednesday that its wholly-owned subsidiary Baidu (Hong Kong) Limited has signed a definitive merger agreement acquire a 100 percent equity interest in 91 Wireless from NetDragon Websoft Inc. and other shareholders. According to the memorandum of understanding dated July 15, 2013, the merger consideration amounts to a total of $1.90 billion. Taking into account the conditional declaration of a special dividend in the aggregate amount of approximately $52.06 million by 91 Wireless to its existing shareholders, the consideration is now adjusted to an aggregate amount of $1.85 billion.
Baidu expects the deal to close in Q4 2013.
Baidu closed at $138.51 Wednesday, a loss of 2% on lower than average volume.
View Comments and Join the Discussion!