CBS Viewership Drops Nearly 5% Following Timer Warner Blackout (CBS, TWC)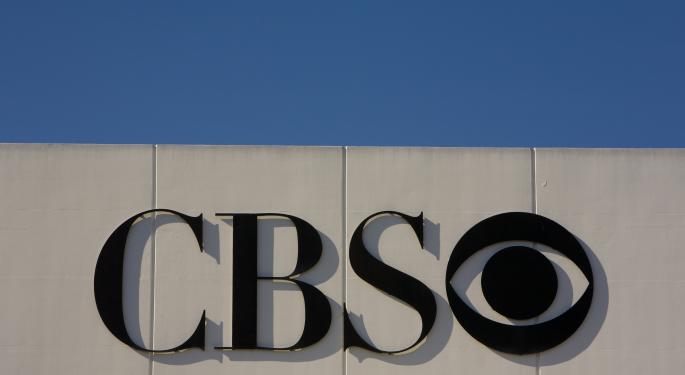 Time Warner Cable (NYSE: TWC) may have the last laugh in its service standoff with content provider CBS (NYSE: CBS).
According to Bloomberg, the nation's leading TV network lost 4.7 percent of its prime-time audience after being dropped from Time Warner Cable.
The blackout -- which came after the two parties failed to agree on a new contract -- eliminated as many as three million homes from the network's potential audience. That might seem like a small number considering that there are 114 million TV viewers within the United States, but the blackout seems to be hurting CBS regardless.
Thus far, the average decline has only amounted to a couple hundred thousand viewers. Under the Dome, CBS' most successful summer show, incurred a more significant loss.
On Monday, July 29, the show received 11.4 million viewers. After the blackout began on August 2, the show's ratings dropped to 10.4 million.
Related: Will New CBS and Warner Bros. Shows Come Exclusively to Netflix?
The decline may not be entirely attributable to the blackout, however. An analysis of Under the Dome's ratings revealed that the show has been fluctuating between 10 million and 11 million viewers since the week after its premiere.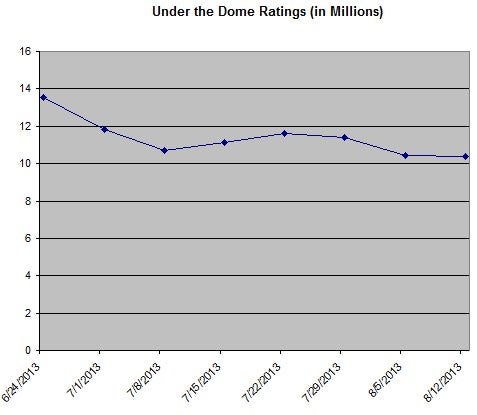 'Under the Dome' ratings data collected from TV By the Numbers' weekly (final Monday night, non-cable) ratings
While most of he show's gains and losses have involved a few hundred thousand viewers week to week, the series lost one million viewers after the blackout began.
Thus, the blackout may have enhanced a natural fluctuation (in this case, a decline) that was already going to occur.
However, it is worth noting that the ratings did not improve at all during the following week. In fact, they remained roughly the same.
This could mean that those who can still watch the show may no longer want to or may have decided to stop watching for the time being.
To be clear, Under the Dome is still a very successful show, particularly for one that premiered during the summer. But its declines -- no matter how small -- are something that studio executives and industry insiders will be watching closely.
It will be interesting to see if the show's ratings improve (or deteriorate further) before the CBS/Time Warner Cable issue is settled. Only then will investors be able to determine if viewers are losing interest in the show -- or if the ratings decline was simply caused by the blackout.
Disclosure: At the time of this writing, Louis Bedigian had no position in the equities mentioned in this report.
Louis Bedigian is the Senior Tech Analyst and Features Writer of Benzinga. You can reach him at 248-636-1322 or louis(at)benzingapro(dot)com. Follow him @LouisBedigianBZ
Posted-In: Bloomberg CBS time warner cable TV By the Numbers Under the DomeNews Tech Best of Benzinga
View Comments and Join the Discussion!