Herbalife Responds to New York Times Post, Calls Out Ackman (HLF)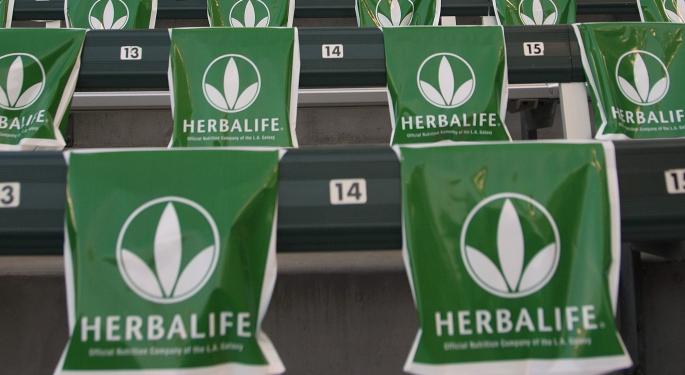 Shares of Herbalife (NYSE: HLF) traded with some strong volatility Tuesday, but rallied back to erase most losses Wednesday on a report from The New York Times, which highlighted that a whistle-blower has made new allegations against Herbalife based on safety issues the company faced in 2011.
Herbalife Lays Down the Law
Herbalife swiftly and in some fashion refuted the remarks, noting that the New York Times report even mentions that the whistle-blower is being paid by activist investor Bill Ackman, whose Pershing Square Capital Management is short about $1 billion of Herbalife stock.
"In response to today's New York Times story about incidents in early 2011, it's important to note that the source for the story is a disgruntled former Herbalife employee whose efforts, as the Times notes, are being funded by Bill Ackman," said Herbalife in a statement issued late Tuesday. "We believe this story is yet another example of Mr. Ackman's desperation."
Related: Astec Analytics' Tim Smith Says Lending In Herbalife Shares Is 'Hot But Not White Hot'.
"According to the Times, at this point, all Mr. Ackman has to show for his $1 billion bet against Herbalife is an approximately $400 million loss for his investors."
Safety Issues
Herbalife did confirm the safety issue in the release, however, they also noted that no contaminated products ever left the facility. "Herbalife's quality control systems functioned as intended by ensuring that the extremely few affected products were detected and destroyed, but out of an abundance of caution, Herbalife chose to re-verify the quality and safety of the products in which issues were not detected, going back to the opening of the production line."
"Thus, in keeping with its paramount commitment to safety and quality, and, acting in accordance with FDA guidance, Herbalife's quality control processes ensured that only safe products were shipped to consumers. In fact, in the three years since these events, the California state food and drug authorities have visited the plant, conducted a regular audit, and provided a report to the FDA stating no serious violations."
Related: Herbalife Shares Rise Despite Reported Ackman SEC Complaint, Bob Chapman Is Astounded.
Shares Bounce Back
Herbalife shares bounced back Wednesday after declining on Tuesday. Shares rose 1.8 percent to $65.68 per share.
Author disclosure: Matthew Kanterman is long Herbalife shares and has traded shares in the past month.
View Comments and Join the Discussion!
Posted-In: Bill Ackman New York Times Pershing Square Capital Management Whistle-BlowerNews Management Insider Trades Best of Benzinga