AmazonFresh Is A Trojan Horse, Says FastCompany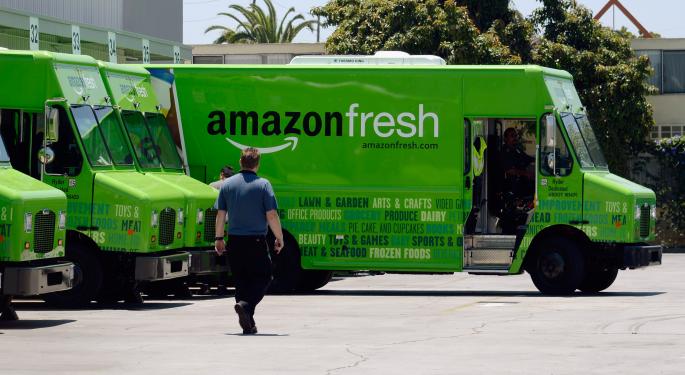 The notion that Amazon.com's (NASDAQ: AMZN) Jeff Bezos has a master plan should not be news to anyone.
It was certainly not news to FastCompany's J.J. McCorvey who said in a recent cover story on the company and its founder that part of that master plan concerns the fact that Amazon Fresh, offered via the company's $299/year upgrade to its Prime Service shipping plan, is a Trojan horse.
According to McCorvey, AmazonFresh was designed to be a vehicle by which Amazon could create enough volume (and customer demand) to justify the expense of providing same-day delivery.
Related: Amazon Gets President's Attention with its Massive Employment Campaign
Former Amazon executive, Tom Furphy, told McCorvey that in the initial pitch to CEO Jeff Bezos, AmazonFresh was sold as an idea that would work in concert with the eventual rollout of same-day delivery.
The biggest hurdle to overcome was the so-called "last mile." Getting a truck filled with products out of warehouse is easy. Individual single customer delivery is the problem. In order to justify the expense of an army of delivery trucks, the volume has to be significant. Nothing creates volume faster and better than groceries.
By offering and eventually expanding grocery delivery, Amazon's plan is to transform occasional book and gadget buyers into regular weekly customers who get their cereal, bread, milk, and other daily necessities from Amazon instead of the local grocery store.
By lowering delivery times overall, Amazon also hopes to increase its appeal to third-party sellers. Currently, third-party providers fill 40 percent of Amazon's sales. These merchants are already attracted to Amazon's quick ship Prime program because of its ability to get products to consumers faster than more traditional shipping methods. Amazon garners a 20 percent fee for its intermediary status.
The rest of the online world has noticed Amazon's obsession with shipping times and is reacting. eBay (NASDAQ: EBAY) offers a program called eBay Now in select cities. EBay's version allows consumers to shop locally, order through Now, and have the item delivered in about an hour for $5.
Not to be left out of the action, Google (NASDAQ: GOOG) is also testing the "same day delivery" waters with a program called Shopping Express in San Francisco. Like eBay's program, Google's also relies on local stores for merchandise. Google plans to charge less than Amazon's Prime rate of $79 per year for unlimited delivery.
Meanwhile, AmazonFresh will soon expand to 20 additional markets, according to McCorvey. Business Insider predicted the service would be available in New York City as early as 2014.
At the time of this writing, Jim Probasco had no position in any mentioned securities.
Posted-In: Amazon Fresh Amazon.com eBay Inc. eBay Now Google Inc.News Events Media Best of Benzinga
View Comments and Join the Discussion!