FOX Taking Over As Broadcast Partner For The U.S. Open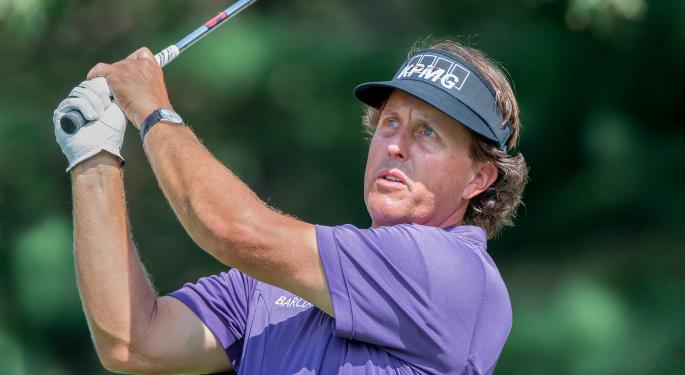 The PGA Championship kicked off Thursday and with notables like Tiger Woods and Phil Mickelson both well off of the lead and CBS (NYSE: CBS) and Time Warner Cable (NYSE: TWC) choosing not to give 3.5 million people the opportunity to watch it, the tournament has the potential of being disappointing from a ratings perspective.
In fact, there's more drama going on off the course and it has nothing to do with the players. On Wednesday, the United States Golf Association dropped a very unexpected bomb on the golf world when it announced that from 2015 to 2026, Fox Sports, a division of 21st Century Fox (NASDAQ: FOXA) would broadcast the U.S. Open, U.S. Women's Open, and the U.S. Senior Open.
NBC, a division of Comcast (NASDAQ: CMCSA), has broadcast the U.S. Open since 1995 and networks like CBS and Disney (NYSE: DIS) owned, ABC have a long history of broadcasting PGA events as well so why change now, especially since Fox has no experience broadcasting golf events? Sports broadcasting experts say that covering a golf event is no easy task even for the most seasoned of sports producers. For the USGA to take such a huge risk, it had to have received an offered it couldn't refuse.
Related: The PGA Championship Is Underway: Talking Golf With PGA Of America CEO Pete Bevacqua
The Associated Press, citing unnamed sources, said that Fox offered $100 million per year for the rights—nearly twice what the USGA was getting in the past.
Even if that number is true, the USGA isn't going to say that the money was the driving factor. Instead, the network relied on the party-line spin of, "its for the good of the game."
USGA President Glen Nager said.
''This is an exciting and remarkable day for the USGA, as our partnership with Fox Sports is a game-changer for our organization and for the game of golf. The game is evolving and requires bold and unique approaches on many levels, and Fox shares our vision to seek fresh thinking and innovative ideas to deliver championship golf. This partnership will help us to better lead and serve the game in new and exciting ways.''
Longtime voice of golf, Johnny Miller will likely be out of a job once NBC loses its broadcasting rights after next year. He, along with Dan Hicks were diplomatic in their responses but in Miller's case, he made sure to point out that his confidence in Fox isn't high.
"You can't just fall out of a tree and do the U.S. Open. I guess the money was more important than the performance. No way they can step in and do the job we were doing. It's impossible. There's just no way. I wish Fox the very best.''
Remember the first couple "UFC on FOX" broadcasts and all of the viewer criticsm? Fox has to get it right the first time since there is only one U.S. Open each year. That, at least according to Miller, won't be easy.
Disclosure: At the time of this writing, Tim Parker had no position in the equities mentioned.
Posted-In: 21st Century Fox ABC CBS Comcast Dan HicksNews Events Media Best of Benzinga
View Comments and Join the Discussion!