'The New York Times' Family Says, 'Not For Sale'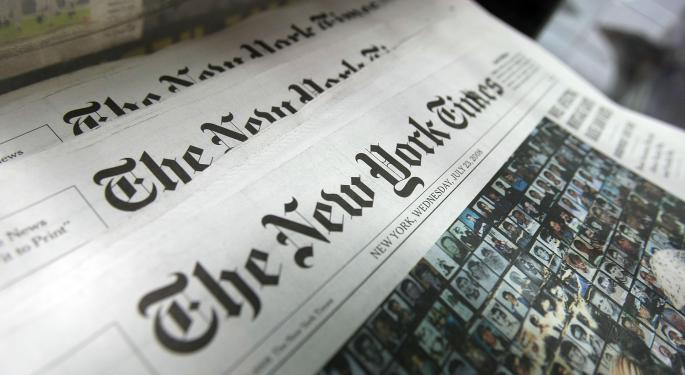 Ever since Amazon.com (NYSE: AMZN) chief executive and tech billionaire Jeff Bezos bought the Washington Post for $250 million on Monday, questions have arisen in the media industry as to whether other top national newspapers would follow the same fate—newspapers such as the distinguished The New York Times.
However, as The Wall Street Journal reported Thursday, the U.S.'s second most-read broadsheet is not going to be on the table for buyers anytime soon.
The Ochs-Sulzberger family, which has owned the Times since 1896, said in an email to employees on Wednesday that the newspaper was "not for sale," and that they would be continuing association with the newspapers "for many years to come."
Many major newspapers in the U.S. have been historically family-controlled businesses, with such notable clans as the Hearsts, the Newhouses and the Murdochs holding possession over numerous dailies, weeklies and print magazines. The Washington Post was formerly owned by the Graham family, before they broke headlines for selling their flagship newspaper this week.
The New York Times (NYSE: NYT), while a major presence in the media industry, has shrunken down its assets considerably in the past few years. Among other sales, it sold About.com in 2012, and the Boston Globe for $70 million just last Saturday to Red Sox owner John Henry. The only two entities left to the company now are the New York Times newspaper itself, and the International Herald Tribune.
Even as there are several parallels between the Washington Post and the New York Times, though, Wall Street analysts and industry consultants believe that the Times is in a much more stable state financially than the Post. The Times turned over an operating profit of $53.4 million and saw a 6.6 percent increase in circulation revenue during the latest fiscal quarter of 2013, while the Post lost $14.8 million in operating profits in the same period.
Moreover, the Times is a larger pioneer on the digital media front than many of its competitors, having kept itself modern with maneuvers such as a "paywall" to reel in more subscribers back in 2011.
Shares for the New York Times grew 2.5% on Tuesday upon Monday's news of Bezos' Washington Post acquisition. 
Posted-In: Jeff Bezos John Henry New York Times Ochs-Sulzberger Red Sox Washington PostRumors Media Best of Benzinga
View Comments and Join the Discussion!