Jobless Claims Lower Than Expected, Up Slightly From Last Week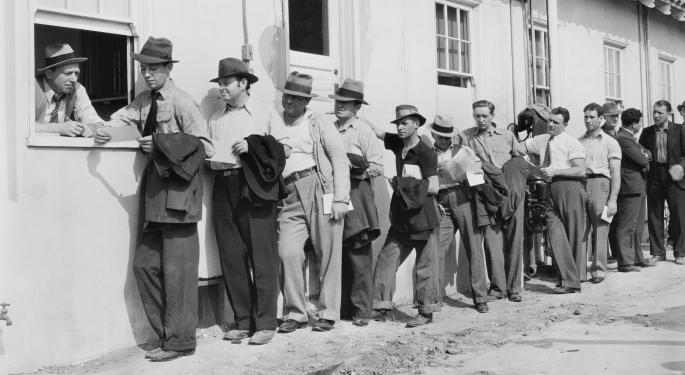 The US Department of Labor (DOL) has released its latest job figures Thursday morning, coming in slightly below the mark versus expectations.
In the week ending August 3, seasonally-adjusted initial claims stood at 333,000 versus the 335,000 consensus estimate. However, this figure climbed 5,000 from the previous week's figure of 328,000 (revised from an initial 326,000).
Related: The Worst Jobs Report in Four Months Does One Thing
Interestingly, it appears recent claims have been spread evenly among the states. No state suffered an increase of over 1,000 for the week ending July 27. The largest increases were found in Idaho (+264), Wisconsin (+179), South Dakota (+115), Arkansas (+90) and Hawaii (+61).
Meanwhile, 12 states saw significant declines. The most notable were California and Michigan with around 21,500 and 8,600 fewer claims, respectively. California noted fewer service industry layoffs while Michigan cited fewer layoffs in the wholesale trade industry. Fewer manufacturing layoffs were a common theme in a majority of the rest, mostly located in the Eastern US.
Related: Decline In National Unemployment Rate Offers Ray Of Hope For Savers
The advance seasonally adjusted insured unemployment rate for the week ending July 27 was 2.3 percent, unchanged from the previous week. For the week of July 20, the highest insured unemployment rates were found in Puerto Rico (4.9 percent), New Jersey (3.7 percent), Alaska (3.5 percent), Connecticut (3.4 percent) and Pennsylvania (3.3 percent). The advance seasonally adjusted four-week moving average for the week ending July 27 was around 3.02 million, remaining essentially flat from the previous week.
Fortunately, those claiming emergency unemployment compensation (EUC) in the week ending July 20 dropped significantly, falling over 48,000 to 1,516,275. This figure has plunged nearly 38 percent year-over-year, as well. While there are various reasons someone might stop claiming EUC benefits (expiration, inheritance, etc.), the data suggests it's becoming easier to find a job.
Also, the total number of people claiming benefits in all programs for the week ending July 20 dropped over 174,000 to 4,520,948. That's another bit of good news for a nation struggling to break free from years of economic turmoil.
Overall, the job situation appears to be mixed. Jobless claims are up slightly. However, states like California and Michigan, which have been hardest hit in recent years, saw a significant decline in claims.
Posted-In: US Department of LaborNews Econ #s Best of Benzinga
View Comments and Join the Discussion!