Germany Could Lead Eurozone Out Of Recession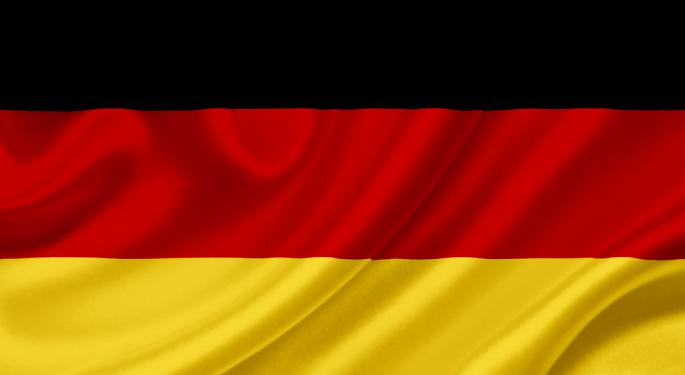 The euro was strong on Wednesday morning and traded near a seven week high after German factory orders beat analysts' expectations and rebounded in June.
The common currency had gained 0.4 percent by 6:11 GMT on Wednesday as hopes rose that the eurozone's two year economic slow down was nearing its end.
Bloomberg reported that German factory orders increased by 3.8 percent in June, beating analyst expectations of only a one percent rise. The factory order data revived hope that Europe's largest economy was getting back on track after factory orders fell by 0.5 percent in May.
Related: Benzinga Market Primer for August 7: Elon Musk in Focus
On Tuesday, the International Monetary Fund urged Germany to resume its leadership role in the eurozone and help lead the region out of its financial crisis once and for all. With upcoming elections in September, German politicians have been hesitant to make any major changes as they campaign for the general elections.
At its annual conference with German policy makers, IMF officials pressured the nation to stay away from austerity minded policies as the German economy remains highly reliant on external demand, which is likely to slow in the near term. Germany has been under fire recently as calls were made for the nation to move away from its reliance on its huge trade surplus and shift towards promoting internal demand
Moving forward, the IMF has recommended that German policy makers consider more aggressive stimulus to encourage internal demand growth and lead the eurozone in creating a more integrated framework within the 17 member bloc. Although the German economy is forecast to grow modestly in 2013 and 2014, the IMF cautioned that the success of the German economy is largely dependent on growth in the eurozone as a whole, something the fund says is far from certain.
Posted-In: IMFNews Eurozone Commodities Forex Global Federal Reserve Markets Best of Benzinga
View Comments and Join the Discussion!