General Motors Slashes Chevy Volt Price By $5,000 To Boost Sales (GM)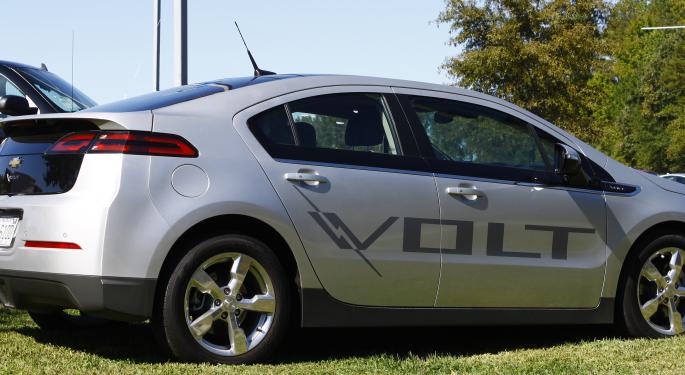 General Motors (NYSE: GM) announced Tuesday that it would slash the price of its 2014 Chevrolet Volt by $5,000, in order to uplift forecasts for disappointing sales.
According to Bloomberg, the Chevy Volt price cut will help it compete with its closest rivals, namely the Toyota(NYSE: TM) Prius and the Nissan (OTC: NSANY) Leaf.
GM hopes that the Volt's new price tag of $34,995 will enable it to crop up alongside other lower-priced electric vehicles in online shopping searches.
The Prius and the Leaf currently both sell at lower prices than the Volt at $25,010 and $29,650, respectively.
Last month, sales for the Volt rose 9.2 percent while deliveries fell 3.3. Overall, the Volt's July sales fell 60 units short of the 11,703 Leaf models sold, while Toyota's Prius vastly outstripped both with 143,508 sales.
The Volt was first introduced in 2010 as GM's debut electric-gas car. Equipped with an extended range, it can travel up to 38 miles on a single charge before reverting to engine power. The Prius is also an electric-gas hybrid, which makes it the most popular trade-in for the Volt. In contrast, the Leaf runs solely on battery power.
The 2014 Chevrolet Volt will begin selling in the U.S. later this August.
Posted-In: chevrolet volt Chevy Volt Leaf Nissan Prius ToyotaTech Best of Benzinga
View Comments and Join the Discussion!