July Services PMI Round-Up: China Bounces, U.K. Shines As Germany Fades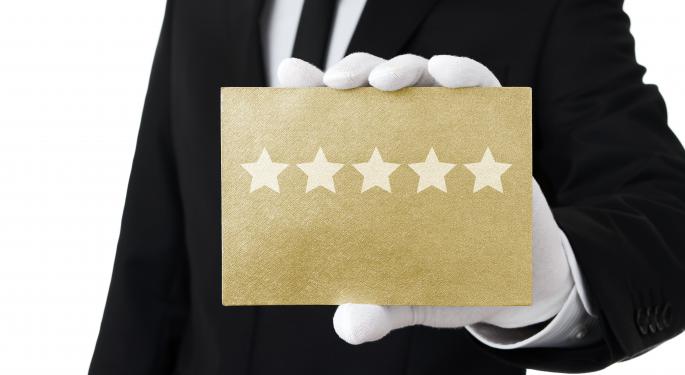 Over the weekend and early Monday, services PMIs for major economies around the world were released.
China's services data relaxed fears of a hard landing for the economy while the British sector showed strong growth in July while Germany disappointed. The ISM Services Index in the U.S. also alleviated fears from a weaker than expected non-farm payrolls figure last week that the U.S. economy was losing momentum.
China Expands
In July, China's official services PMI rose to 54.1 from 53.9 in June, marking a slight increase but alleviating fears of a downturn in the economy, or at least in the services sector. Notably, new orders were flat at 50.3 from June while new export orders jumped to 53.1 from 50.4 in June.
Fears rose over the health of China's economy following the liquidity crunch in June that led to overnight borrowing rates reach double digits. Rates have since eased and the People's Bank of China injected liquidity back into interbank markets last week for the first time since February to further ease credit conditions.
Related: Brent Rises on Chinese Optimism.
Notably, growth in tourism and the telecom industries accelerated in July and were strong points driving the employment sub-index to 53.0 from 50.0 in June. However, prices paid rose to 58.2 from 55.0, indicating that some inflationary pressures could be growing in the services sector.
However, the HSBC China Services PMI, which has a larger sample size of smaller companies than does the official number, was flat in July from June at 51.3. The HSBC survey also posted an uptick in new orders while prices in this survey were reported as declining from June.
Fastest Growth In 26 Months
The clear winner in the overnight PMI data dump was the United Kingdom, who's services PMI rose to a 26-month high of 60.2, up from June's reading of 56.9. Economists surveyed by Reuters were looking for a reading of 57.2.
"Supporting activity growth through 2013 has been continual gains in new business," wrote Markit, who compiles the PMI data. "July was no different, with sales rising at the strongest rate since November 2006. Underlying demand was reported to be stronger and market conditions improving both at home and abroad. Good weather and a pick-up in the housing market provided further boosts to activity and sales during the latest survey period."
"Employment also increased as part of business expansion plans as confidence regarding future activity improved to its highest level for 15 months. Panellists are widely expecting the recent upturn in economic conditions to continue, with new product plans and geographical expansion also cited as reasons to be optimistic."
Eurozone Improves While Germany Disappoints
The Eurozone Services PMI showed continued improvement in July as the index rose to 49.8 in July from 48.3 in June, besting expectations of a reading of 49.6. The rate of decline in the index was the lowest during the eurozone's one and a half year contraction, potentially underscoring a larger economic rebound that is slowly taking hold.
Notably, the French, Italian, and Spanish services PMIs all beat expectations. For Spain, the service sector continues to improve despite the weaker than expected manufacturing data for July that was released late last week. Germany, however, missed expectations as its services PMI fell to 51.3 from the flash reading of 52.5, which was the forecast for the full month; June's reading was 50.4.
U.S. Services Sector Expands, Employment Weakens
The ISM Non-Manufacturing Index rose to 56.0 in July from 51.1 in June, beating expectations of a reading of 53.1. The increase in the index was driven by a sharp rise in production and business activity, new orders, and prices paid. Also, a decline in imports helped the net exports figure of the index.
Notably, the employment sub-index declined in July from June, which reflects the sentiment from Friday's Non-Farm Payroll figure, which missed estimates. Also, the backlog of orders declined in July from June.
Markets React
Global markets reacted to the data as Chinese shares rose on the data while shares in Europe sold off. The Shanghai Composite Index rose 1.04 percent overnight on the better PMI data. However, European shares sold off in afternoon trading as nearly all major indexes traded lower after initially gaining before the data. U.S. equity indices also traded lower on thin volume.
Currencies were on the move as the euro erased earlier losses on the weak data points while the yen gained back some losses against the dollar. Overall, the Dollar Index rose 0.15 percent on strength against the euro and the Swiss franc.
Commodities were lower on the data as oil sold off sharply on global demand fears. WTI crude futures declined 0.84 percent to $106.16 per barrel while Brent crude futures fell 1.01 percent to $107.85 per barrel. Gold and silver were also lower on the dollar strength.
View Comments and Join the Discussion!
Posted-In: News Commodities Forex Events Global Econ #s Economics Markets Best of Benzinga