EXCLUSIVE: FundersClub Co-Founder & CEO Alexander Mittal Is Making Waves In The Wave Pool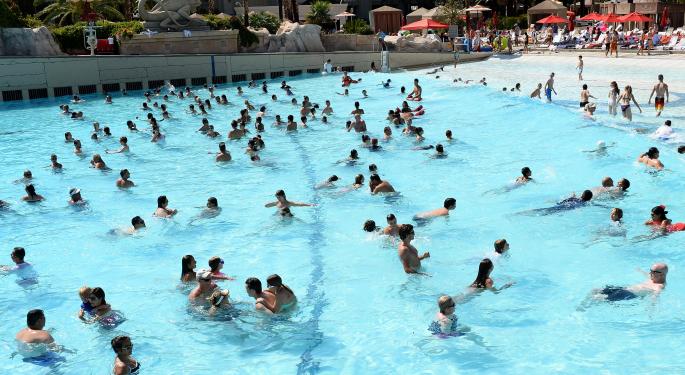 When the gears of thought push boundaries, a natural story of disruption unfolds.
Many eager college graduates looking to start a company have glowing ambitions aimed at a bright future filled only with success. Most end up disappointed when their great idea doesn't pan out, for whatever reason, and taste defeat far before the sweetness of victory.
Others know their stuff. They don't just have lightning in a bottle, they aim at becoming Zeus. Some even have their own asteroids.
Alexander Mittal, co-founder and CEO of FundersClub, might be one of those individuals.
A science and tech whizkid (he's even presented research at the Nobel Prize Ceremonies), if you haven't heard the buzz around Mittal, he's made it on the right lists.
Which ones?
BusinessWeek's America's Best Young Entrepreneurs, America's Most Promising Social Entrepreneurs, Forbes 30 under 30 in Tech, and Silicon Valley's 40 under 40 can all be checked off.
Co-founder of three tech-based startups, he's been successful in raising upwards of $20 million as CEO of the advanced materials technology company Innova Dynamics, which specializes in environmentally sustainable materials, touchscreen hardware, and clean-tech. Before that, he acted as chief technology officer at his other startup, an identity and credential verification enterprise software company called Crederity. He still serves as a director on both boards.
Related: Appvance Closes First Funding Round
Mittal can easily be considered a technological Renaissance Man. He knows business from the ground up, and he hasn't gone unnoticed. Co-founder and President of FundersClub Boris Silver also has bragging rights. Silver was founder and CEO of Sport Interactiva, one of the top fantasy sports game companies on Facebook, which was sold to Citizen Sports and later acquired by Yahoo (NASDAQ: YHOO).
FundersClub has an active hive of attention building around, recently celebrating their one-year anniversary on July 25.
What did they do during that year?
The online venture capital platform started by breaking the mold, completely disrupting how investing gets done.
"After meeting [Silver] and talking, we realized that it was quite painful for both parities, both top entrepreneurs and accredited investors to do something that should be relatively straight forward," said Mittal.
Their combined experience and knowledge has changed the investing game. Screening only the best companies, looking at the personality and track record of the team, the market size that they're in, because "the peak of their success" shouldn't be small, and their growth/traction, within their over dozen criteria.
They aren't looking at markets with small peaks, and that means FundersClub companies are eager to climb your metaphorical 'Everest' and 'K2' of markets.
"Frankly, we are speaking multi-billion dollar addressable markets," said Mittal.
Mittal noted that the vast majority of startups don't have growth and traction. The thirty-one companies that have met FunderClub's screening process do.
"We're interested in truly disruptive business," said Mittal with a spurt of enthusiasm.
They hit $1 million in investments by Dec. 19, 2012.
Now, a full year after launching, they've raised a total of $7.2 million for the benefiting startups. The companies on their roster are at a total of nearly $100.4 million in fundraising altogether.
"I'm actually jealous of some of our investors who actually can," said Mittal referencing that he couldn't invest himself because of a legal conflict of interest.
Their members are investing in the same startups that large venture capital firms are excited about. Interestingly, $40 million of the $100.4 million total investment in these startups (including FundersClub's $7.2 million) came after they selected certain companies for investment.
Related: SecondMarket CEO Barry Silbert Sees an Investment Revolution on the Horizon
Currently, 80 percent of their startups generate revenue. Mittal slipped in that revenue generating startups typically grow by double month-over-month on average.
So how does FundersClub profit?
"We went through great effort to actually not peruse a broker dealer model," Mittal said.
The company is even a a member of the National Venture Capital Association, and is in a category all its own.
"We take what's called carried interest, or carry…the percentage of any net profits already invested. Typically we take, right now, 20 percent carry," said Mittal.
This only happens after they pay back all of their investors their original investments
"The big difference, obviously, is that we're not at all [motivated] by volume," said Mittal, noting that they make money off of the success of the company.
Mittal said that they like to be open about what the next "big idea" is when screening companies.
"There are waves that are currently occurring," said Mittal.
"They include the EdTech wave, the educational technology era. You see a renewed emphasis on hardware, now that the cost of executing a hardware business model is…less than it has been historically, making it easier to get going, and to actually start innovating at a similar pace to what you see in software, but in hardware. And that includes 3D printing for example…You see a lot of innovation in financial technology, which FundersClub is actually a part of. We're seeing this trend of consumerization of enterprise…individuals tend to mesh their personal devices with their smartphones and their personal computers."
FundersClub has done everything from help companies find office space to top-notch employees, and introducing other business connections. Mittal concluded by saying that they're going after startups looking to change the world.
"It's about quality," said Mittal.
View Comments and Join the Discussion!
Posted-In: Alexander MittalNews Movers & Shakers Startups Hot Tech Interview General Best of Benzinga