Ford Adding F-150 Fleet Of CNG Powered Vehicles (F)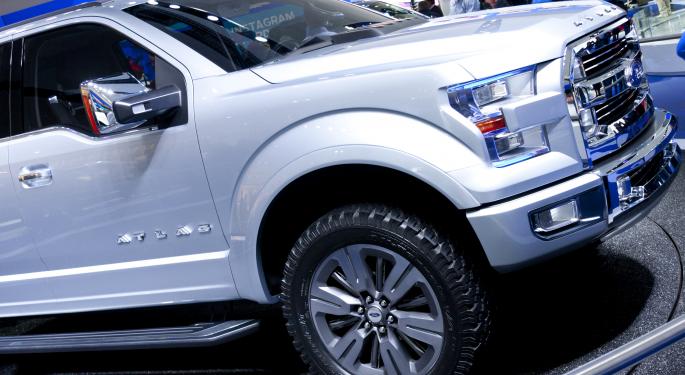 A resurgence in demand for trucks, coupled with a desire to cut operating costs on the part of commercial fleet buyers, led Ford Motor (NYSE: F) to announce that later this year it will begin selling an F-150 pickup modified to run on compressed natural gas, according to The Wall Street Journal.
Ford sales of CNG trucks last year reached 11,000, double the numbers sold in 2009 – 2011 combined. The addition of the F-150 means Ford will now have eight vehicles in its CNG-ready lineup. Ford already offers this option in Transit and E-Series vans along with the larger F-350 truck, according to Reuters.
"We did this because customers were asking for it," Kevin Koswick, Ford's director of North American fleet sales operations told The Wall Street Journal. Ford released a statement saying it expects to sell about 15,000 CNG vehicles in 2013
Both Chrysler Group LLC and General Motors (NYSE: GM) also offer compressed natural gas as an option on their respective half-ton pickup trucks
Only Chrysler, The Wall Street Journal said, does the conversion to CNG at its own factory. Both Ford and GM send trucks to an up-fitter for installation of necessary components.
Although neither GM nor Chrysler would reveal the number of CNG vehicles sold so far this year, the trade group, Natural Gas Vehicles for America, said there are around 130,000 natural gas vehicles on U.S. roads, almost all of them commercial trucks and buses.
Ford's move comes as both energy conservation and alternative fuels are gaining traction in the news and, more importantly, in the minds of buyers. Compressed natural gas is only one of the options under consideration.
The movement started with hybrid gas and electric vehicles such as Toyota (NYSE: TM)'s Prius, later shifting to companies like Tesla Motors Inc. (NASDAQ: TSLA) and Nissan, both of which are promoting battery-only vehicles.
Related: Toyota to Roll Out Competitively Priced Hydrogen Powered Car by 2015
Pioneer Energy Services (NYSE: PES) and AT&T (NYSE: T) are just two of the companies currently buying Ford CNG vehicles. AT&T recently bought 650 vehicles with the CNG option to add to their repair and maintenance fleet.
Upfront costs for conversion to CNG are a factor. Buyers can expect to pay an additional $7500 to $9000 to modify a Ford F-150 according to The Wall Street Journal.
However, fuel costs are low – with compressed natural gas running about $2.11 per gallon of gasoline equivalent versus $3.66 per gallon of gasoline, according to Reuters.
In the end, buyers can expect payback on their investment in as little as 24 to 36 months, Jon Coleman, Ford fleet sustainability and technology manager, told Reuters.
In mid-day trading, Ford shares were up $0.06 at $17.04.
At the time of this writing, Jim Probasco had no position in any mentioned securities.
View Comments and Join the Discussion!
Posted-In: AT&T Inc. battery-only vehicle Chrysler Group LLC CNG compressed natural gasNews Retail Sales Media Best of Benzinga