Boeing Faces New Challenges from Recent Dreamliner Fire (BA)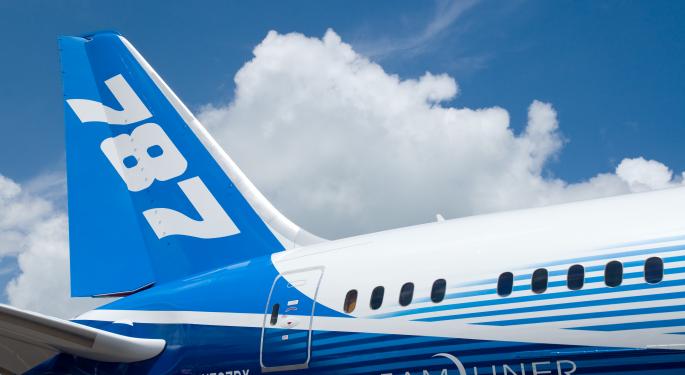 The good news is that the fire aboard the Boeing (NYSE: BA) 787 Dreamliner at London's Heathrow Airport was likely a pinched wire and not a symptom of a major design flaw in the 787.
The bad news, however, is the mess it has created for Boeing.
First, Reuters reported Monday that Boeing has asked airlines to examine the emergency beacon on 1,200 of its aircraft and report back within 10 days.
The data will assist regulators in determining what action to take. The beacon, manufactured by Honeywell (NYSE: HON) is believed to be the cause of the fire, but investigators still aren't sure if there's a problem with the beacon or if the issue is isolated to this one aircraft.
Last Thursday, the Federal Aviation Administration ordered the beacon removed or examined on all 787s, but stopped short of making the recommendation for all aircraft.
But the beacon might be the lesser of Boeing's worries. The July 12 fire aboard the 787 owned by Ethiopian Airlines caused extensive damage to the fuselage of the aircraft. Because the 787 is made of a molded mixture of carbon fiber and epoxy and baked at 350 degrees in a giant oven, repairing the aircraft isn't as easy as cutting out the damaged area and replacing it with a piece of aluminum.
Related: FAA Proposes $2.75 Million Civil Penalty Against Boeing Co. for Quality Control Violations
Old school materials may be used to patch the most technologically advanced commercial jet in the air. Experts told The New York Times that an aluminum patch with titanium supports may be installed. They fear that the extra weight and loss of its aerodynamic design may drive costs up over the longer-term.
According to airline experts, this will be a key test of the new aircraft. If it's not cost effective to repair the damaged area, much of the back of the fuselage might have to be removed and replaced and this may come at an expense hard to stomach for airlines.
Boeing designed repair kits for areas of the aircraft known to suffer damage through regular operations but some fear that it doesn't have a well thought-out plan for how to repair major damage.
Airbus, in its new A350, uses carbon fiber panels which, it says, are easier to repair than Boeing's Dreamliner design.
Disclosure: At the time of this writing, Tim Parker had no position in the companies mentioned.
Posted-In: 787 Airbus BoeingNews Legal Management Events Global Best of Benzinga
View Comments and Join the Discussion!