Merger Monday Strikes Again (OMC, SKS, PRGO, ELN)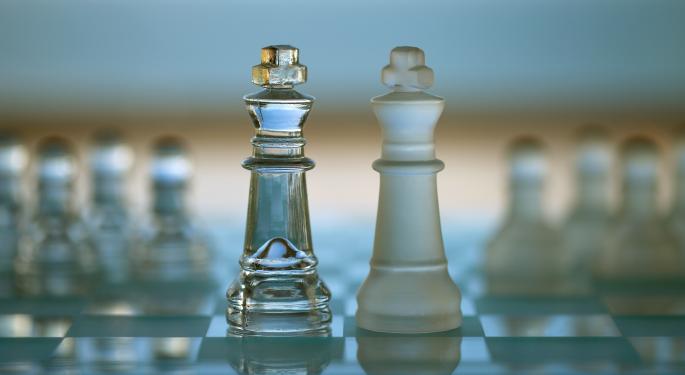 Merger Monday struck this morning as several high profile deals were announced heading into this week's trading.
Notable deals included the merger of Omnicom (NYSE: OMC) and Publicis (OTC: PUBGY), Saks (NYSE: SKS) being bought by Canada's Hudson's Bay, and Perrigo (NYSE: PRGO) buying Elan (NYSE: ELN).
Omnicom and Publicis Merge As Equals
Omnicom and Publicis entered into a merger of equals to create Publicis Omnicom Groupe, a company which had combined revenues of nearly $23 billion in 2012 and has a market cap of over $35 billion. The combined company will be equally owned by shareholders of each company.
Notably, the company will now be led by co-CEOs with the CEOs of each company coming together to split duties. The new company will employ over 130 thousand people and be listed on both the New York Stock Exchange and the Euronext in Paris and be a component of both the S&P 500 and the French CAC 40 Indexes.
Related: Earnings Expectations for the Week of July 29.
"The communication and marketing landscape has undergone dramatic changes in recent years including the exponential development of new media giants, the explosion of Big Data, blurring of the roles of all players and profound changes in consumer behavior," said Maurice Lévy, Chairman and CEO of Publicis Groupe. "This evolution has created both great challenges and tremendous opportunities for clients."
"John [Wren, CEO of Omnicom] and I have conceived this merger to benefit our clients by bringing together the most comprehensive offering of analog and digital services. Equally important, it will offer our talented people new avenues for growth and success at the crossroads of strategic intelligence, creativity, science and technology."
"Both Maurice and I believe this new company reflects our vision of retaining the best talent, attracting an incredible roster of clients and leading innovation," said John Wren, CEO of Omnicom. "Omnicom and Publicis Groupe are reshaping the industry by setting a new standard for supporting clients with integrated messaging across marketing disciplines and geographies."
"This combination will enable us to leverage the skills of our exceptionally talented people, our broad product offering, enhanced global footprint, and tremendous roster of global and local clients. In short, we believe this is a merger that will set our new company on a path to accelerated growth, with long-term benefits for clients, employees and shareholders."
Omnicom shares rose 6.74 percent in the pre-market to $69.50 per share, rising $4.39 to a new 52-week high.
Saks Goes Canadian
Saks Inc., the owner of the iconic Saks Fifth Avenue stores, announced this morning that the company has agreed to sell itself to Canadian company Hudson's Bay, the owner of stores including Lord and Taylor. Hudson's Bay will pay $16 per share for Saks in an all cash deal valued at $2.9 billion including debt.
The combined company will operate 320 locations including 179 full-line department stores, 72 outlet stores, and 69 home stores. The two companies had combined revenues of about $7.4 billion in 2012 and EBITDA of over $500 million and the company sees synergies of roughly $103 million.
""This exciting portfolio of three iconic brands creates one of North America's premier fashion retailers," stated Richard Baker, HBC's Chairman and CEO. "I've had a long connection with Saks over the years, and am thrilled to bring one of the world's most recognized luxury retailers into the HBC family."
"With the addition of Saks, HBC will offer consumers an unprecedented range of retailing categories and shopping experiences. This acquisition will increase our growth potential both in the U.S. and Canada, generate significant efficiencies of scale, add to our powerful real estate portfolio and deliver substantial value to our shareholders."
Steve Sadove, Chairman and CEO of Saks, commented, "We believe this transaction delivers compelling value to our shareholders and that Saks Fifth Avenue is an excellent fit within the HBC organization. We also believe that HBC recognizes the tremendous value of our people, our real estate, our customer and vendor relationships, and most importantly the power and potential of our iconic brand."
"The $16 per share price represents an approximate 30% premium to the May 20, 2013 closing price, the day before media speculation began. We have made significant progress over the past few years to position Saks for future growth and to evolve into an omni-channel retailer. We are excited about what this opportunity and being part of a much larger enterprise can mean for the future of the Saks Fifth Avenue brand."
Saks shares rose 3.46 percent to $15.84 per share pre-market. Shares have run up ahead of the deal as the merger was widely rumored for months.
Perrigo Snatches Elan
The third major deal announced this morning was Perrigo (NYSE: PRGO) buying Elan (NYSE: ELN) in a cash and stock deal valuing Elan at roughly $16.50 per share. Elan holders will get $6.25 per share in cash and 0.07636 shares of the new Perrigo.
"Through this transaction, Perrigo establishes a diversified platform for further international expansion," stated Perrigo Chairman and CEO, Joseph C. Papa. "We believe this transaction is compelling for Elan shareholders and fully takes into account the value of Elan's assets, including a large cash balance and a double-digit royalty claim on Tysabri®, a blockbuster product that generated revenues of US$1.6 billion last year and has been growing at a compound annual growth rate of 19%."
"We believe the combination of Perrigo and Elan will create an industry-leading global healthcare company with the balance sheet liquidity and operational structure to accelerate our growth and capitalize on international market opportunities."
Mr. Robert A. Ingram, Chairman of Elan, commented, "This is an excellent transaction for Elan shareholders and provides them with cash consideration as well as the opportunity to benefit from the potential upside value of the new company. Joe Papa and his team have demonstrated exceptional capability and delivery of results in building a premier healthcare company over the past number of years. We have the confidence in Joe and his leadership team to continue to grow and expand its presence on a global scale."
Additionally, Elan CEO Mr. G. Kelly Martin, said, "The Elan platform has been constructed over the years to provide a unique and compelling investment thesis for our shareholders. This transaction underscores the tremendous value of Elan's platform. The new combined company should deliver value, growth and diversification to shareholders for many years to come."
Perrigo shares fell 1.62 percent pre-market to $132.06 per share and Elan shares gained 7.1 percent pre-market to $15.99 per share, reaching a new 52-week high this morning.
View Comments and Join the Discussion!
Posted-In: CAC 40M&A News Management Pre-Market Outlook Markets Movers Press Releases Best of Benzinga