How Soon Until Mobile Payments Are The Next Big Thing?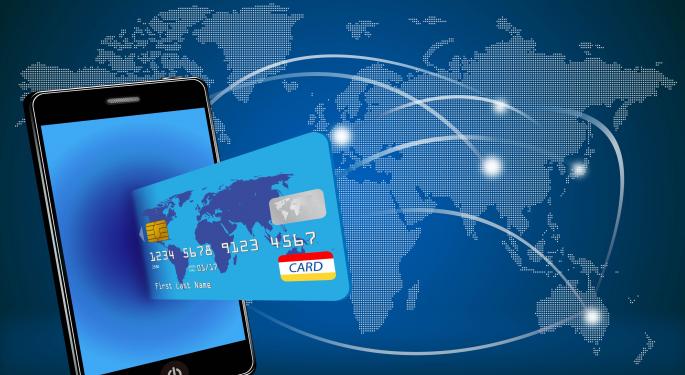 Using smartphones to buy stuff is a growing phenomenon, according to Business Insider, based on its new BI Intelligence report.
As a result, the whole notion of digital wallets is becoming reality sooner than many thought.
Related: Apple's New Patent Might Suggest Mobile Payment Focus
The main reasons, ZDNet said, are threefold.
First, electronic mobile payments cut transaction times. The advantages of a simple click of a button on a smartphone over getting out a credit card or cash, making a physical payment, having the clerk record the transaction and issue a receipt are obvious.
Using a mobile device for transactions also allows merchants to interact with customers via customer loyalty programs. Russell Zimmerman, executive director at the Australian Retailers Association (ARA) told ZDNet, "The reason smaller retailers will pick mobile payments up is that there is loyalty [and loyalty programs] associated with it. It could be that you automatically get your 10th coffee free, or your fifth meal free or a free glass of wine if you can accrue loyalty points every time you pay with a mobile payment."
Finally, mobile in-store payments help increase face-to-face interactions, as opposed to online transactions over the Internet. Zimmerman touted the advantage face-to-face transactions provide, especially for smaller retailers. "Mobile payments are about daily interactions with customers," he said. "Retailers are looking for ways in which they can engage with customers and give them extra services. If you actually have a customer in your store you can do add-on sales."
Consumers, for their part, are starting to see the advantage of having a single "thing" for all in-person financial transactions. No need for currency or credit cards – just whip out the smartphone and instantly pay or charge.
The Huffington Post, referring to the BI report, said the revolution has already begun.
By the end of 2012, the Huffington Post said, 7.9 million U.S. consumers had begun using near-field communications (NFC) compatible systems for in-person transactions. Vendors and apps used for the process include Google (NASDAQ: GOOG)'s Google Wallet, Visa (NYSE: V) Wallet, MasterCard (NYSE: MA)'s PayPass, and several others.
Related: Research Shows That Google's Internet Footprint Is More Massive Than Anybody Thought
In addition, credit card readers like Square, I Love Velvet and eBay (NASDAQ: EBAY)'s PayPal processed more than $10 billion in mobile payments in 2012. While the use of mobile-based credit card readers is not the same as full-blown direct mobile transactions, the use is considered a precursor and part of the reason, ZDNet said that another recent report from Gartner suggests annual mobile payment transactions worldwide will soon exceed $235 billion.
Business Insider's BI Intelligence report indicated that overall, we are still in the early stages when it comes to the use of full-blown mobile payments. On the other hand, in-store mobile payments almost quadrupled in 2012, a sure sign that smartphones and the way we finalize financial transactions are changing forever.
The report suggests, for example that by 2017, the total value of mobile offline transactions will be about $1.5 trillion.
Some retailers are not waiting. Starbucks (NASDAQ: SBUX) now has an in-store mobile payment system and Apple (NASDAQ: AAPL) began offering its Square mobile registers at its retail locations July 9.
At the time of this writing, Jim Probasco had no position in any mentioned securities.
Posted-In: News Retail Sales Topics Events Small Business Movers Tech Media Best of Benzinga
View Comments and Join the Discussion!