Google Chromecast Making TV Executives Nervous (GOOG)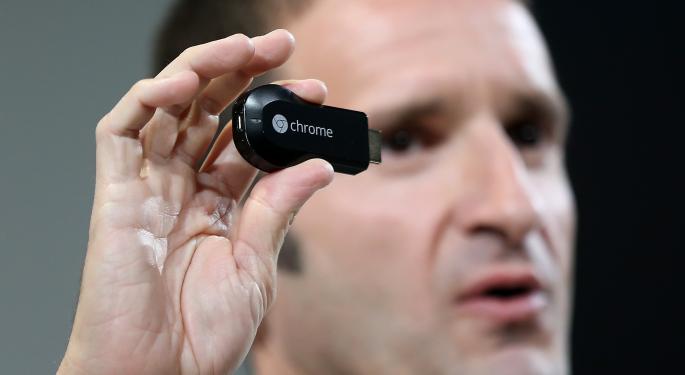 The premiere of the Google (NASDAQ: GOOG) Chromecast streaming device has excited the masses to the point the device is already sold out and on backorder.
Related: Google's Sold-Out Chromecast Soars to $100 on eBay
It has also raised concerns, on the part of television executives and others who are always nervous when web content gets anywhere near a TV.
According to Business Insider, Chromecast, which plugs into the back of a TV's HDMI port, provides users with the ability to stream content wirelessly from their computers, smartphones and other devices to their TV. This is precisely what TV executives do not want.
Especially given the fact that the device is cheap. At $35, Chromecast almost falls in the "impulse buy at the checkout counter" category. This, along with the three free months of Netflix (NASDAQ: NFLX)—now discontinued—is why Google sold out of the devices.
Business Insider noted that while the primary use for Chromecast would be integration with apps designed for the device, it also has the ability to mirror anything that appears on Google's Chrome browser. And, "anything" covers a lot of territory.
In addition to television executives, the folks at Comcast (NASDAQ: CMCSA), News Corp. (NASDAQ: NWSA), and The Walt Disney Co. (NYSE: DIS) owned Hulu might not be so happy either. AllThingsD reported that Hulu tries to keep its free online content separate from television by requiring a Hulu Plus subscription to watch Hulu on TV.
Chromecast, by making Chrome content streamable, thwarts that plan. Hulu, AllThingsD said, is developing an app for Chromecast and, while it would potentially provide some additional content available on Hulu Plus and not viewable on Hulu's free service, it may not be enough to encourage users to fork over a subscription fee, making the app almost moot from the start.
Time Warner (NYSE: TWX) owned, HBO may have some concerns as well. It has only been since February that HBO permitted Apple Inc. (NASDAQ: AAPL) Apple TV customers to use its HBO GO service streamed from iPads and iPhones.
Then, of course, there are the aforementioned broadcast networks whose online content could be streamed from the Chrome browser to televisions via Chromecast. This could potentially damage Google's relationship with the networks, especially as it contemplates competing with Apple's long-rumored television set. Not to mention cable providers, like Time Warner, who are fighting battles on another front to serve up online content with services such as Aereo.
Related: Time Warner Brings Out New Weapon In Dispute With CBS
In the end, Chromecast simply escalates a conflict already underway. Ossama Alami, one of Google's developer relations group managers told AllThingsD that if content providers don't want devices like Chromecast streaming their programming from the Internet to consumers' television sets, they would have to stop distributing it via the Internet.
There is no sign that television executives intend to abandon the web as a means to advertise and promote their programming.
Meanwhile, at the same time it is irking network heads, Google continues to promote the notion of an "over the top" pay-tv service, including talks with content providers about licensing their programming.
At the time of this writing, Jim Probasco had no position in any mentioned securities.
View Comments and Join the Discussion!
Posted-In: Aereo Apple Inc.News Retail Sales Events Movers Tech Media Best of Benzinga