Is a Frequent Upgrade Cellular Plan for You?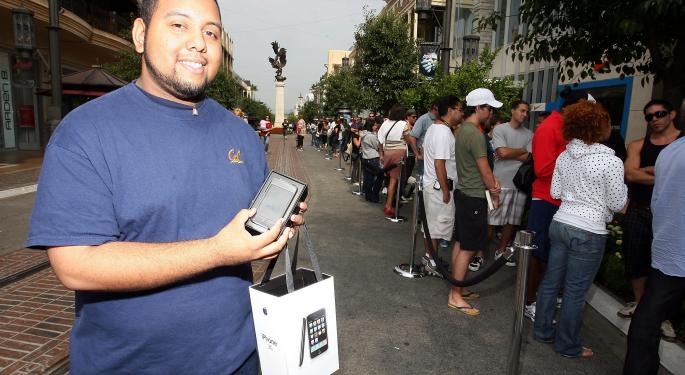 It all started with T-Mobile US' (NYSE: TMUS) JUMP plan which allowed consumers to upgrade their smartphones sooner than the industry standard of every two years.
It didn't take long before AT&T (NYSE: T) fell in line with its Next program, followed by Verizon Communication (NYSE: VZ) and Vodafone (NASDAQ: VOD) owned-Verizon Wireless, which showed up with a program called Edge.
Related: Verizon and AT&T Unveiling Plans to Compete with T-Mobile 'Jump' Plan
So, now there are three carriers offering three plans that allow you to upgrade as soon as every six months to a year after you get a new phone.
The question is: Should you?
The Denver Post took a look at all three programs and concluded that it depends. Noting that manufacturers like Apple (NASDAQ: AAPL) and Samsung (OTC: SSNLF) come out with new models at least once a year, clearly the new plans are aimed at consumers who want the latest phone at the first possible moment.
As the Denver Post also pointed out, however, even with the new plans, having the latest and greatest comes at a price – often considerably more than you would pay by keeping a phone for the more customary two years.
AT&T Next
With AT&T's Next program, you have to pay at least 60 percent of your existing phone's full retail price before you can switch. Payments are spread over 20 months with trade-ins available after 12 payments.
Using a Samsung Galaxy S4 for illustration, after 12 payments of $32 on the Next plan, you will have shelled out $384. By going the traditional subsidized route, AT&T requires $200 upfront with no payments. Early termination (at 12 months) will cost you $205. Total out of pocket by then will have been $405, but you own the phone, which you can sell to more than make up the $21 difference and quite likely cover part or all of the costs of your next subsidized phone.
Verizon Edge
The Verizon plan allows you to upgrade after six months – as opposed to a year under the other plans – but as the Denver Post points out, why would anyone want to pay $325 (50 percent of Verizon's $650 cost of a new Samsung S4) for a phone you only have for six months?
NBC News noted that Verizon spread the payments over 24 months instead of AT&T's 20, requiring only that you pay 50 percent of the cost before upgrading. After 12 monthly payments of a little more than $27, you will have paid the $325 and can then trade in your (now) old Samsung S4 for a new model and start all over again.
T-Mobile JUMP
T-Mobile is unlike both Verizon and AT&T because it did away with contracts and subsidized phones so that option isn't available. T-Mobile contracts tend to be less expensive than either AT&T or Verizon, although AT&T touts the fact that its LTE service is the fastest available and Verizon points out that it is considered the most reliable network everywhere.
Related: Verizon Slips to Second on LTE Speed, Maintains a Lead on Reliability
T-Mobile requires an upfront payment and a monthly fee for the smartphone as well as a $10 "program charge" (which also includes insurance that normally runs $8 a month).
At the end of a year under T-Mobile you would have $510 for your Samsung S4. While this all seems to make T-Mobile the "odd man out" price-wise, the Denver Post points to T-Mobile's exceptionally low wireless service plan prices – much lower than those of AT&T or Verizon.
Adding it All Up
If you are generally happy with your cellphone and don't feel the need (or desire) to upgrade frequently, the new frequent upgrade plans are probably not for you. All of them will end up costing you more if you don't upgrade at least once a year and you could end up literally paying twice for your phone if you keep it long enough.
According to USA Today, if you did upgrade once a year and go with AT&T, you would pay almost twice what you would pay for a phone on a subsidized plan.
With Verizon, you would only have to pay half the retail cost (versus AT&T's 60 percent), but still more than what you would pay during the same period for a subsidized phone.
T-Mobile, USA Today, notes has the extra charges, but they are mitigated by cheaper wireless plans, making T-Mobile your best bet, cost-wise.
This, of course, doesn't take into account AT&T's faster service or Verizon's reputation for reliability.
Posted-In: AppleNews Retail Sales Topics Events Media Personal Finance General Best of Benzinga
View Comments and Join the Discussion!