Manchester United Shares Volatile As Club Looks to Big Summer Signings (MANU)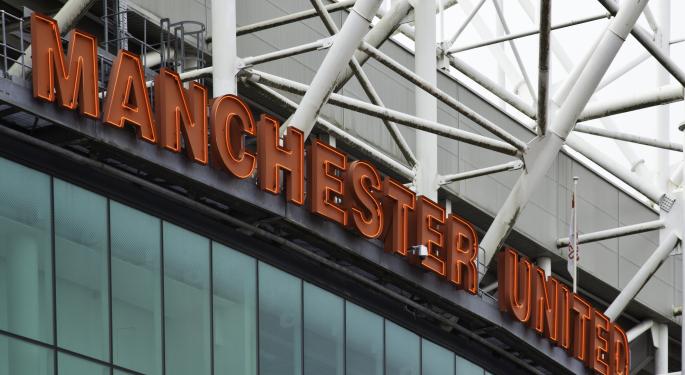 Manchester United (NYSE: MANU), England's most successful football club, shares have been volatile in the past few trading session as the club looks to splash close to $122 million on new summer signings.
Reported targets include reigning Professional Football Association (PFA) Player of the Year Gareth Bale, Barcelona and Spain midfielder Cesc Fabregas, and Everton duo Leighton Baines and Marouane Fellaini, of England and Belgium respectively.
One Signing to Date
So far this season, Manchester United have only made one signing, Uruguayan youngster Guillermo Varela. However, this signing is far from what analysts would call a marquee signing.
New manager David Moyes spoke over the weekend and said that it is frustrating that the club have not brought in the payers they have wanted but negotiations for other players continue. Reported target Thiago Alcantara, also formerly of Barcelona, was swept up by European champions FC Bayern Munich before United could make a deal for the player.
Second Fabregas Bid Confirmed
Moyes confirmed that Manchester United have made a second bid for Fabregas in the press conference, which Sky Sports reports was approximately $46 million. Only two years ago, Barcelona bought Fabregas from Arsenal for roughly $49 million but Moyes said he would double Fabregas' salary to nearly $16 million.
"I will hope things will continue to move forward," Moyes said about the negotiations. "At this moment in time I can only tell you [Manchester United CEO] Ed Woodward is working hard to try and make the deals happen. We hope some of them will fall into place shortly."
However, Moyes said that he is looking to sign a new midfielder and splash some cash to boost the squad. "Signing a midfield player was one area where we thought we could possibly add to the squad."
Aside from Fabregas, Everton and Belgium midfielder Marouane Fellaini, a former player of Moyes' from his days as the Everton manager, is another reported target. "It's hard to get top quality players who can come in and affect your team," continued Moyes. "That's why we're trying to go for what we see as the right players and the best players."
Cash to Spend?
Manchester United may have to be more conservative in its expenditures this off-season though, with the cash position dropping substantially in the quarter ended March. Manchester United reported that the club's cash position fell to about $55.4 million from $108 million at the end of June 2012 and $108.9 million at the end of March 2012.
Therefore, the large acquisition of Fabregas would either mean that United's transfer business would culminate with the acquisition or that they would fund other purchases with sales. England striker Wayne Rooney has been rumored to be on his way out of Old Trafford and his sale for between $38 and $46 million could raise funds for United then to spend on other players.
Shares Volatile
Manchester United shares have been volatile as the transfer speculation has increased in the last week or so. Shares have risen as high as $17.85 and as low as $16.55 in the past week as rumors circulate. Monday, shares declined 0.57 percent to $17.55 per share.
Posted-In: News Rumors Asset Sales M&A Intraday Update Markets Movers Media Best of Benzinga
View Comments and Join the Discussion!