When Should I Retire? Is 65 Now too Young?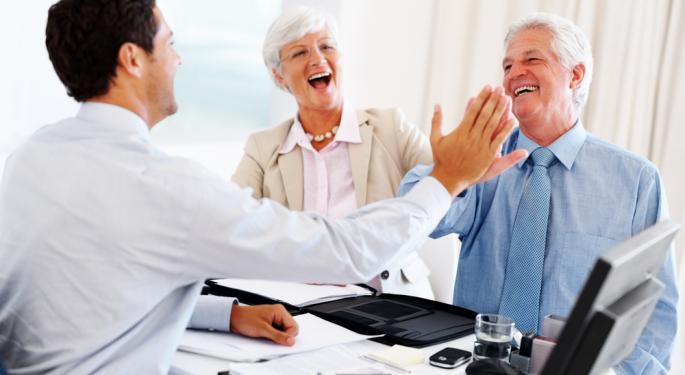 While Benzinga mostly covers actionable trading ideas and news stories, we've decided to delve a bit deeper into personal finance. The team at Benzinga would like to assist readers with not just their investing endeavors, but their financial lives as a whole. And today, we continue this effort with a discussion of whether age 65 is now too young to retire.
The average retirement age has risen substantially since the 1990s. According to Gallup, the average American retires at age 61 these days, up from 57 in 1993.
And, once the destiny of a small percentage of the population, over a third of Americans now believe they'll retire after age 65. Consider the following percentages of workers who anticipate retiring after age 65 in the past versus present, according to Gallup:
1995: 14%
2003: 21%
2008: 32%
2013: 37%
Clearly, Americans expect fewer golden years these days than during the economic boom of the 1990s or even after 9/11. The financial crisis appears to have added to their woes and, overall, it appears America's best economic days are behind it. With this in mind, is 65 now too young to retire? Not necessarily.

Despite the increasingly-grim picture, there is no one-size-fits-all retirement age. Your retirement age ultimately depends on your retirement savings, life expectancy, retirement expenses and career satisfaction.
Obviously, you can retire anytime you wish if you're confident in your retirement assets. For example, if you have $3 million in retirement savings at age 60, even a conservative five percent interest would allow you to withdraw $150,000 per year without touching the principal.
If you'll rely on Social Security, you'll want to wait longer to retire if you plan to live to or beyond your life expectancy. That's because the earlier you begin collecting, the lower your monthly payment will be. However, if you wait until age 67, you'll collect the full monthly payment and receive more money if you reach or exceed your life expectancy. If you don't expect to reach your life expectancy, you'll generally earn more by taking payments as early as possible.
Related: When to Take Social Security Benefits
Of course, you'll want to take your planned level of consumption into account. For example, a frugal, 59 year-old janitor with no debt could easily retire to rural Alabama with $500,000 in retirement savings. Conversely, his twin brother, a high-rolling attorney who won't drive anything but a Mercedes, might need a lot more than his current $900,000 to retire to a Florida mansion.
Let's not forget career satisfaction. Some people loathe their job and others love it. While the former want to get out as early as possible, the latter may feel 65, or any age, is too young.
The Bottom Line
Americans increasingly expect to retire after age 65. However, your personal financial situation will dictate the best age for you to do so. Consider factors including your retirement savings, life expectancy, planned expenditures and career satisfaction before making your decision.
Posted-In: News Rumors Psychology Economics Personal Finance General Best of Benzinga
View Comments and Join the Discussion!