Want to Put Your Money Where Your Faith is? Consider Faith-Based Investing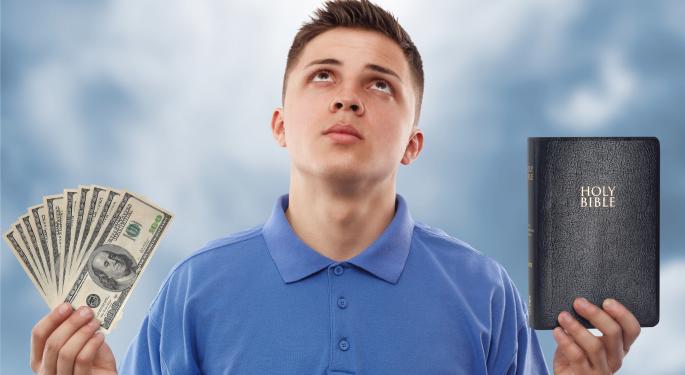 While Benzinga mostly covers actionable trading ideas and news stories, we've decided to delve a bit deeper into personal finance.
The team at Benzinga would like to assist readers with not just their investing endeavors, but their financial lives as a whole. And today, we continue this effort with a discussion of investing within the principles of your faith.
What is Faith-Based Investing?
According to the Presbyterian Mission Agency, "Faith-based investing uses the three pillars of socially responsible investing — screening, shareholder advocacy, and community investing — to express faithful stewardship of investment resources."
Screening involves investing in entities that match your values and avoiding those that don't. For example, a Christian might choose to invest in Tyson Foods (NYSE: TSN), as the company offers chaplain services to its employees and donates food to the poor.
Shareholder advocacy, according to the Presbyterian Mission Agency, "combines our voices as investors to leverage a call for socially responsible corporate policies and practices…Through dialogue and meetings with company management, some shareholders try to directly encourage more responsible levels of corporate citizenship." And, it notes, "If initial attempts at dialogue or communication with a company fail, institutions or individuals can file a shareholder proposal, to be voted on at that company's annual shareholder meeting."
Community investing entails investing directly into low-income or disadvantaged communities through community development banks, credit unions and the like. For instance, a faith-based investor might purchase a CD from a community development bank whose actions fit her belief system.
Related: Values and Value: Making a Difference and a Profit
Is Faith-Based Investing Popular?
Despite a seemingly gradual decline in religious involvement over the decades, faith-based investing expanded exponentially in the late 20th through early 21st Century. According to the Social Investment Forum Foundation, the number of religious mutual funds grew nearly 1,400 percent between 1993 and 2006, rising from six to 89. And, it notes the total assets in such funds grew nearly 1,100 percent to $17.7 billion between 1989 and 2006.
In other words, faith-based investing is not only alive and well, but is at its strongest point in history.
How do I Know Which Investments are Acceptable?
While only you know which business practices are in line with your faith, many religions provide investment guidance on the Internet. For example, the United States Conference of Catholic Bishops has published its guidelines here.
Alternatively, consider investing in a faith-based mutual fund. Notable providers of such funds include:
Amana Mutual Funds Trust (Islamic)
Ave Maria Mutual Funds (Catholic)
Guidestone Financial Resources (Christian)
Timothy Plan (Christian)
The Bottom Line
Aligning your investments with your faith is now easier than ever before. You can do so manually through screening, shareholder advocacy and/or community investing. Or, you can invest in mutual funds that match your beliefs.
Speak with your financial advisor for the faith-based strategy that works best for both your portfolio and values.
Posted-In: Presbyterian Mission Agency Social Investment Forum Foundation United States Conference of Catholic BishopsNews Rumors Psychology Personal Finance General Best of Benzinga
View Comments and Join the Discussion!