Netflix Breaks New Ground with 14 Emmy Nominations (NFLX)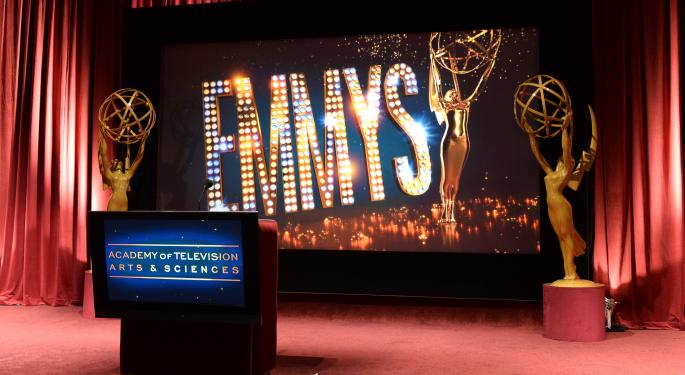 Netflix (NASDAQ: NFLX) is not a TV network -- or even a pay-TV station.
Despite this, the company proudly took home 14 Emmy nominations Thursday morning, including two "Best Actor" nods for Kevin Spacey and Robin Wright in the critically acclaimed House of Cards.
If this show had been produced by Time Warner's (NYSE: TWX) HBO, it would be just another day for Hollywood. But House of Cards comes from the online-only version of Netflix, which costs $8 a month.
House of Cards was no small investment. Netflix agreed to pay $100 million for two seasons before a single episode had been filmed. That's considerably higher than the $20 million to $30 million that TV studios will typically spend on a big-budget hour-long drama.
Related: Apple to Develop 65-Inch Ultra HD Television
Netflix also got the attention of Emmy voters for its revival of the old (and once critically acclaimed) comedy series Arrested Development. TV reviewers may not be impressed, but the show still picked up three nominations, including one for "Outstanding Lead Actor in a Comedy Series" (Jason Bateman).
Hemlock Grove, another Netflix original, scored two nominations.
Orange is the New Black, Netflix's newest series, debuted too late to be included in this year's Emmy nominations. Based on the show's critical acclaim, however, it is likely to be an Emmy leader in 2014.
By gaining entry into the guarded world of award show nominations, Netflix now threatens TV networks -- including the nation's biggest awards hog, HBO -- in two significant ways.
First, Netflix became a TV network of its own. It does not yet offer live programming (and may never get to that point), which prevents it from being a contender for major sports coverage. But it has continued to acquire content from existing programmers, including ABC, NBC and Fox. Now it has original shows that viewers cannot find anywhere else.
Second, Netflix could steal the awards spotlight from HBO, which has repeatedly used the Emmy's and the Golden Globes to tout its own slate of original programming. Without those awards (or with fewer of them), HBO won't look as impressive as it did five years ago.
That's not to say that this is all Netflix needs to rule the industry. But every network has to start somewhere. During Netflix's first six months of original content, the company acquired 14 Emmy nominations. That number could be far greater in 2014.
Louis Bedigian is the Senior Tech Analyst and Features Writer of Benzinga. You can reach him at 248-636-1322 or louis(at)benzingapro(dot)com. Follow him @LouisBedigianBZ
Posted-In: Arrested Development Emmy's Golden Globes HBO Hemlock GroveNews Success Stories Tech Best of Benzinga
View Comments and Join the Discussion!