Spain To Present View on the ECB's Role in the Eurozone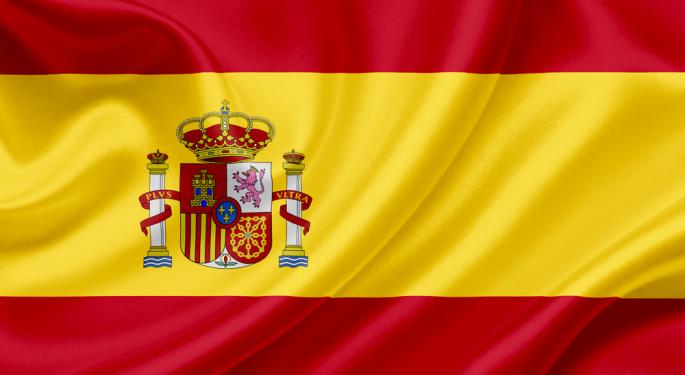 The euro slipped to $1.30 on Thursday morning after US Federal Reserve Chairman Ben Bernanke reiterated the bank's plan to continue with its stimulus plan for the foreseeable future.
Although Bernanke was quite vague in his testimony to Congress on Wednesday, he confirmed that the bank hadn't set a strict timeline for rolling back the $85 billion per month bond buying plan and that the Fed would adapt to the US economy.
In the eurozone, the region's struggle to create a united banking system continued as the Spanish Foreign Ministry prepared to present their arguments for the European Central Bank taking on a larger role within the bloc at a two day meeting in Palma de Mallorca on July 19th and 20th.
According to Businessweek, Spanish policy makers are lobbying for the ECB to act as a backstop for government finances; something Germany has historically refused.
Related: Benzinga Market Primer for July 18: Key Tech Earnings Report
As it stands, the European Union's treaty states that the central bank will not finance individual governments. But Spanish officials believe that the ECB should be to the eurozone what the Federal Reserve is to the USA and open access to the bank's balance sheet.
German officials have been fighting against more ECB interference for some time now, using the EU's founding treaty as support. The Bundesbank was the only central bank in the eurozone to oppose Mario Draghi's unlimited bond buying program.
Spanish officials are also proposing to change the European Stability Mechanism into the European Monetary Fund. The fund under its new name would be used to resolve financial problems within the bloc.
Probably the most controversial idea in the proposal, is the idea of common debt. According to the plan, Spanish officials want members of the eurozone to issue common debt, which would make German taxpayers accountable for Spanish borrowing.
Posted-In: Ben BernankeNews Eurozone Commodities Forex Global Federal Reserve Markets Best of Benzinga
View Comments and Join the Discussion!