Google Preparing For Entry Into Online Television (GOOG)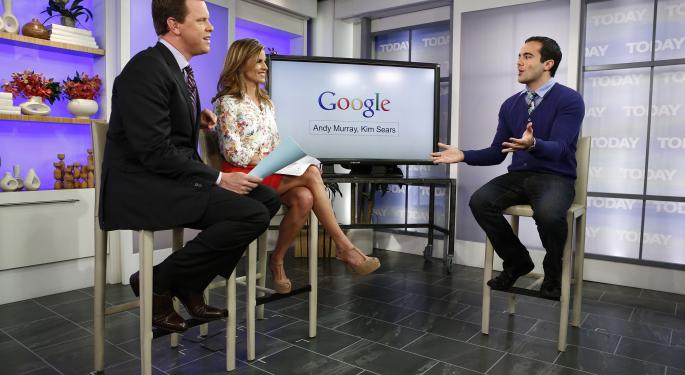 According to a report in The Wall Street Journal on Tuesday, Google (NASDAQ: GOOG) is getting ready to put its considerable financial weight behind an Over The Top (OTT) television programing service.
OTT refers to broadcast on-demand television content delivered on "top" of existing broadband Internet connections.
The company has tried before to have conversations with media companies about OTT but the talks went nowhere according to sources that spoke with The Wall Street Journal.
The problem is that those who own the content already have lucrative deals with cable programmers like Comcast (NASDAQ: CMCSA) and Time Warner Cable (NYSE: TWC), as well as satellite providers such as DirecTV (NASDAQ: DTV) and Dish Network (NASDAQ: DISH), and fiber optic carriers like Verizon's (NYSE: VZ) Fios and AT&T's (NYSE: T) U-verse. They don't want to jeopardize what they already have for something as uncertain as television via the Internet.
Uncertain or not, several other companies are looking into online streaming television packages in addition to Google. They include Intel (NASDAQ: INTC) and Sony (NYSE: SNE) both of which are in the process of developing similar offerings to the one Google is purportedly crafting.
Apple (NASDAQ: AAPL) is going a different route, according to The New York Times, opting instead to seek most of its deals with existing distributors like Time Warner Cable and Comcast to stream their content, as opposed to dealing with media companies directly.
Related: Apple Said to be Closing in on Deal with Time Warner Cable
Intel, The Wall Street Journal said, actually plans to launch its OTT service by the end of this year. The company has had discussion with a number of media companies, but it is unclear whether any actual deals have been struck. The Intel service, however, does have a name – OnCue.
Sony, according to one media executive who spoke to The Wall Street Journal, may launch its service ahead of the one proposed by Intel. The Sony OTT service would travel broadband connections to Sony PlayStation devices, TV sets and Blu-ray players.
Neither Intel nor Sony was willing to comment on their respective plans to The Wall Street Journal.
Everyone, including Google, Intel, Sony, along with other tech companies interested in OTT, has the same challenge. They have to offer the same or a similar lineup of channels for a better price or consumers will have no reason to switch from their current provider.
Therein lies the rub. Media companies offer their best rates to cable and satellite operators who bring in scores of viewers and sell "bundles" containing popular and unpopular channels alike – one of the biggest complaints against those providers by customers.
In order to get respectable rates, OTT providers may have to accept the same types of bundles making their offerings no better – and possibly more expensive than those of cable and satellite providers.
Meanwhile, pay-tv providers, The Wall Street Journal said, are now also trying to negotiate their own nationwide streaming rights with media companies.
The New York Times report cited one person involved in talks with Google who said the company might end up offering a library of TV shows similar to what Netflix (NASDAQ: NFLX), Amazon (NASDAQ: AMZN) and Hulu do already – at least initially. Google, according to other sources, however, wants to go full bore into actual live online streaming of content.
At the time of this writing, Jim Probasco had no position in any mentioned securities.
Posted-In: AmazonNews Wall Street Journal Rumors Retail Sales Events Tech Media Best of Benzinga
View Comments and Join the Discussion!