Benzinga's M&A Chatter for Tuesday July 16, 2013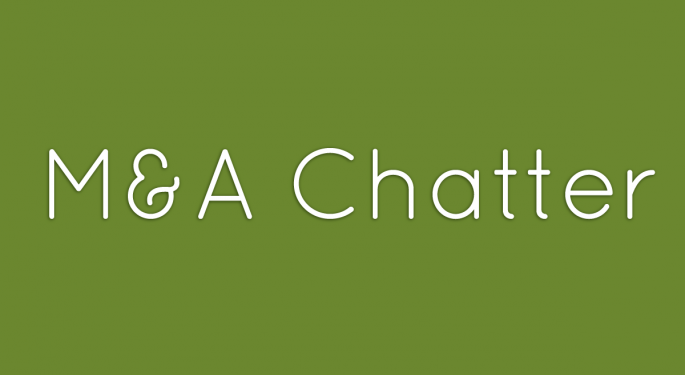 The following are the M&A deals, rumors and chatter circulating on Wall Street for Tuesday July 16, 2013:
Baidu to Acquire 91 Wireless for $1.9B
The Deal:
Baidu (NASDAQ: BIDU) shares surged higher in the pre-market Tuesday as the company announced it has signed a Memorandum of Understanding to acquire all equity interests in 91 Wireless Websoft Limited from NetDragon. Baidu will purchase the entire issued share capital of 91 Wireless for $1.9 billion. Baidu and NetDragon will further negotiate and agree on the relevant terms of the Proposed Acquisition in the definitive agreements by 14 August 2013 to purchase NetDragon's 57.41% equity interest in 91 Wireless.
Bidu closed at $105.69 Tuesday, a gain of 4% on twice average volume.
Bally Technologies to Acquire SHFL Entertainment for $23.25/Share in Cash
The Deal:
Bally Technologies (NYSE: BYI) announced Tuesday that it has entered into a definitive agreement to acquire SHFL Entertainment (NASDAQ: SHFL)for $23.25 per share in cash, or approximately $1.3 billion.
The deal is expected to close by Q2 2014.
SHFL Entertainment closed at $22.81 Tuesday, a gain of 22% on 36 times average volume.
Hearing Five Companies to Bid for Onyx Pharmaceuticals
The Rumor:
Shares of Onyx Pharmaceuticals (NASDAQ: ONXX) moved sharply higher Tuesday on a report from Reuters that the company could receive bids from five drug companies, including Amgen (NASDAQ: AMGN) Pfizer (NYSE: PFE), Bristol-Myers Squibb (NYSE: BMY) and Gilead Sciences (NASDAQ: GILD). Onyx rejected Amgen's $120 per share big on June 30.
A spokesperson for Onyx declined comment on the report, as spokespersons for Pfizer and Bristol-Myers.
Onyx Pharmaceuticals closed at $132.71 Tuesday, a gain of 1% on more than twice average volume.
Dell Special Committee Continues to Support Michael Dell's $13.65/Share Offer
The Letter:
The Special Committee of the Board of Dell (NASDAQ: DELL) issued a letter to shareholders on Tuesday, recommending approval of Michael Dell/Silverlake offer of $13.65 per share. The letter was critical of investor Carl Icahn's offer, saying there is "fundamental illogic in ascribing meaningful value to the transfer of a portion of any upside above $20 per share", when shareholders are seeking to cash out at $14 per share.
There was chatter Tuesday that the July 18 vote might be postponed, but late Tuesday, Dell investor relations said the vote was still scheduled for Thursday.
Investor Carl Icahn will be speaking Wednesday at CNBC's Delivering Alpha event where it is expected he will discuss his bid for Dell.
Dell closed at $13.02 Tuesday, a loss of 1% on 3 times average volume.
Posted-In: News Rumors Hedge Funds Movers & Shakers M&A After-Hours Center Movers Tech
View Comments and Join the Discussion!