The Smart Watch Field is Starting to Get Crowded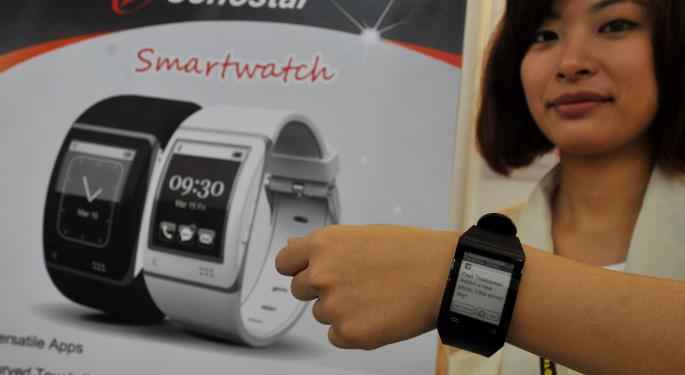 Microsoft (NASDAQ: MSFT), not about to be outdone by Apple (NASDAQ: AAPL), has apparently been working on its own smart watch, according to company sources who spoke to AmongTech.
The sources indicated that some Microsoft employees are currently wearing prototypes of the Windows 8-based devices and that the watches will be available as early as next year.
According to sources, the Surface watch will come in a variety of colors and will be made from Oxynitride Aluminum, which is 80 percent transparent and four times harder than glass. The watch is reported to have its own built-in radio, making it a stand-alone device, not dependent on a smartphone for operation.
News about the Microsoft Surface watch came on the day word hit the street that Apple was in the middle of a hiring frenzy, looking for engineers to work on its long-rumored iWatch.
Financial Times reported that people familiar with the company's plans say it has stepped up development of the iWatch by bringing fresh engineering talent on board to deal with design "problems" with the device. The iWatch, like the Surface watch is also rumored to be about a year away.
Wearable technology, personified by the smartwatch movement, along with development of Google's (NASDAQ: GOOG) Glass, is trying to become the wave of the future. The question is: Will it?
Minyanville suggested that wearable technology may not become as popular as many have theorized. From concerns about privacy, related to Google's Glass, to issues surrounding the difficulty of doing anything practical on a 1.5-inch smartwatch display, Minyanville posited that all the hype might be just that – hype.
Minyanville also pointed to the fact that smartwatches don't provide much, if any, advantage over smartphones. Smartphones are small, easily fit in the pocket, and can be carried around. Strapping an even smaller – and harder to read – device to the wrist might not be worth the trade-off.
Concerns aside, everybody and his brother, it seems, is working on a smartwatch. In addition to the recently rumored Surface watch and Apple's iWatch, Google is believed to have a smartwatch in physical form, according to policymic.
There is also the Pebble smartwatch, now available in Best Buy (NYSE: BBY) stores, along with Sony's (NYSE: SNE) entry which came out last year.
Related: Pebble Smartwatch to be Available at Best Buy Sunday
There's no question tech companies believe there's a market for smartwatches and other types of wearable technology. The sheer number of potential entrants makes that clear. Whether or not consumers want the devices is the key question.
At the time of this writing, Jim Probasco had no position in any mentioned securities.
Posted-In: Apple Inc.News Rumors Topics Events Tech Media General Best of Benzinga
View Comments and Join the Discussion!