Will Barnes & Noble's $129 Nook Sell as Fast as Hewlett-Packard's $99 TouchPad? (BKS, HPQ)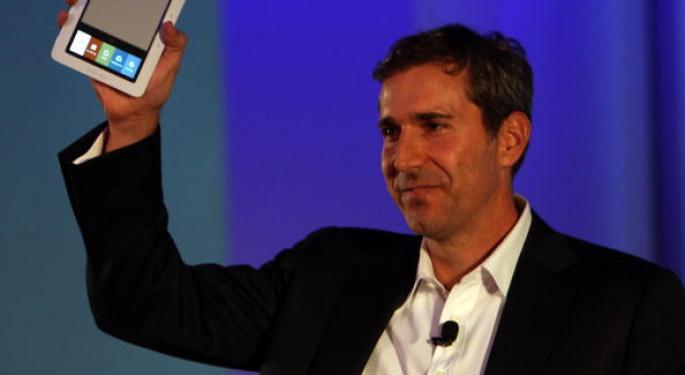 Hewlett-Packard (NYSE: HPQ) achieved a surprising degree of success with its $99 TouchPad.
The tablet originally sold for $499. After succumbing to the power of Apple's (NASDAQ: AAPL) iPad, which dominated the market at the time (and still does throughout most of the world), Hewlett-Packard lowered the MSRP to $99.
At that price, the TouchPad immediately flew off store shelves and sold out at numerous electronics stores, including Best Buy (NYSE: BBY).
This brief success story may have hurt Hewlett-Packard's bottom line, but it may have also given Amazon (NASDAQ: AMZN) the inspiration to build a cheaper slate.
Related: William Lynch Resigns as CEO of Barnes & Noble
Today, low-cost iPad alternatives are everywhere. Hewlett-Packard's first Android tablet, the Slate 7, started out at $169.99. Now it is being sold for $139.99 at most retailers.
Barnes & Noble (NYSE: BKS) thinks it can do one better. The bookseller is now selling the standard, seven-inch Nook HD for $129 -- a $70 saving over the introductory price.
The retailer has also reduced the price of the Nook HD+ to $149, saving consumers $120.
These price cuts came after the company announced that it would more or less exit the tablet industry and allow third-party manufacturers to produce future Nook tablets.
Despite the withdrawal, Barnes & Noble might actually sell a large number of tablets now that it has reduced its prices.
According to DigiTimes, "market watchers" believe that the Nook will see "strong demand" in the third quarter, which began this month.
DigiTimes did not say who the market watchers were (analysts, executives or some other professionals), but it did mention that Barnes & Noble shipped one million Nook tablets during the fourth quarter of 2012. The company shipped 700,000 units during the first quarter of 2013, followed by an additional 500,000 to 600,000 units in the second quarter.
Related: Was the Hewlett-Packard TouchPAd Truly a Success at $99?
Depending on how many of those units have already been sold, consumers could have a difficult time acquiring the tablets now that their prices have been reduced and now that they will no longer be manufactured.
Louis Bedigian is the Senior Tech Analyst and Features Writer of Benzinga. You can reach him at 248-636-1322 or louis(at)benzingapro(dot)com. Follow him @LouisBedigianBZ
View Comments and Join the Discussion!
Posted-In: Barnes & Noble hewlett-packard HP nookNews Rumors Success Stories Tech Best of Benzinga