Microsoft to Announce Major Restructure as Soon as Thursday (MSFT)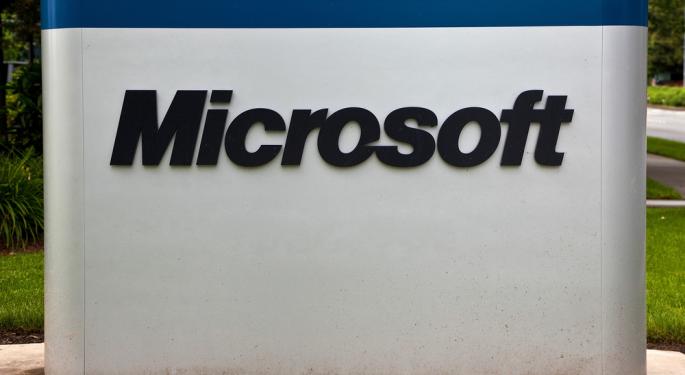 As part of an effort to achieve "functional coherence," Microsoft (NASDAQ: MSFT) CEO Steve Ballmer may be set to reveal the company's restructuring plan as early as Thursday, July 11, according to AllThingsD.
When it comes to defining functional coherence, Microsoft is less than specific, choosing not to even make the term part of the company talking points regarding its restructuring efforts.
Fancy sounding phrases aside, the restructuring is real – even if the timing is subject to adjustment. AllThingsD cited a number of unnamed sources who said one major component involves moving a number of top executives to different positions. This is all part of an effort to eliminate overlapping functions and reorganize the product cycle for greater efficiency.
Related: CLSA's Managing Director Ed Maguire Sees Good Things For Microsoft
Specifically, Servers and Tools guru, Satya Nadella is expected to head up a new cloud computing and business products division. Qi Lu, currently in charge of Online Services, may take on Microsoft Office and other software. Xbox, Surface tablets, and other devices could go to Julie Larson-Green who currently co-directs Windows development. Terry Myerson, head of the Windows Phone unit, is rumored to be headed over to Windows engineering and platforms.
That's a lot of executive shuffling – and it's only part of the picture, according to AllThingsD. Moving top-level people to new positions makes those top-level people nervous. What makes Wall Street and its investors nervous is something entirely different and something that involves someone who will not change positions.
That someone is current CFO Amy Hood who would oversee a restructuring of Microsoft's P&L so that the various divisions would no longer report financial performance separately – as they do currently.
Effectively, this move would make company finances less transparent – not something potential investors would gladly embrace. The rumored P&L change would also make stockholder criticism of money-losing units more problematic – if not nearly impossible.
Sources who spoke with AllThingsD noted that such a major change to the company's financial structure would take time and would require regulatory approval.
The proposed changes at Microsoft create a host of unanswered questions starting with "Who will replace CEO Ballmer when he eventually leaves?" Nothing about the reorganizational structure seems to point to anyone specific.
Even more important is "How will the restructure allow Microsoft to more quickly adapt to market innovations introduced by rivals such as Apple Inc. (NASDAQ: AAPL) and Google Inc. (NASDAQ: GOOG)?"
One insider who spoke with AllThingsD summed it up: "If this is all about an org chart and not how to build great products, it does not matter what org chart Ballmer presents. Consumers buy products, not a management structure."
At the time of this writing, Jim Probasco had no position in any mentioned securities.
Posted-In: Amy Hood Apple Inc.News Rumors Management Events Tech Media Best of Benzinga
View Comments and Join the Discussion!